BMI Celebrates Little Big Town and Writers of "Day Drinking" and "Girl Crush"
Nashville's Ruby turned into the site of a celebration for the writers of Little Big Town's hits "Day Drinking" and "Girl Crush," both off of their latest album Painkiller. Music industry executives, family and friends gathered under the sparkling light of a disco ball to praise BMI songwriters Karen Fairchild, Phillip Sweet and Jimi Westbrook of Little Big Town, who penned the #1 hit "Day Drinking" with BMI songwriters Barry Dean and Troy Verges. The members of LBT were surprised with custom Gibson guitars, heralding their first #1 single as writers. Immediately following the presentation, Karen led the charge into honoring "Girl Crush," written by the Love Junkies, BMI songwriters Lori McKenna and Liz Rose with Hillary Lindsey. The incredible track is the most downloaded country song of 2015.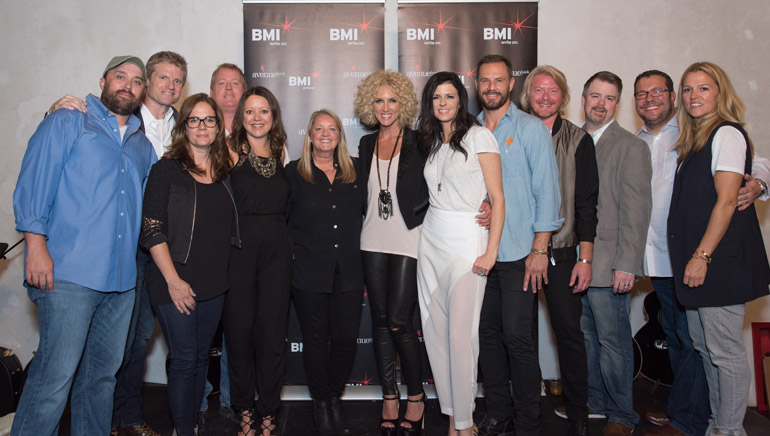 Pictured: (L-R): The people behind "Girl Crush," including Liz Rose Music's Scott Ponce, BMG's Kos Weaver, BMI songwriter Lori McKenna, ASCAP's Mike Sistad, songwriter Hillary Lindsey, BMI songwriter Liz Rose, members of LBT Kimberly Schlapman, Karen Fairchild, Jimi Westbrook and Phillip Sweet, Warner Chappell's Ben Vaughn, Universal Music Publishing's Kent Earls and BMI's Leslie Roberts.