BMI Brings Nashville Cool to Bonnaroo
The cool kids are moving to and moving up in Music City, and it shows. BMI will dispatch three of Nashville's freshest voices to the 2011 Bonnaroo Music and Arts Festival. The 3rd Annual Road to Bonnaroo contest victors Chancellor Warhol, Cheer Up Charlie Daniels, and Uncle Skeleton each earned slots in the festival's Troo Music Lounge, where they will serve as ambassadors of Nashville's melting pot—a hodgepodge of international avant-garde and spit-polished Southern eclecticism.
Sponsored by BMI, Mercy Lounge, Yuengling, and the Bonnaroo Music and Arts Festival, BMI's Road to Bonnaroo competition took place over the course of three 8 off 8th shows— February 28, March 21, and April 18 — at Nashville hot-spot The Mercy Lounge. As the live-action litmus test, eight bands performed three-song sets during each installment of the series. To select the evening's top contender, an industry panel comprising local music journalists, bloggers, and 8 off 8th hosts contributed one half of the verdict, while fan-voting through onsite ballots determined the other half.
BMI's involvement underscores the organization's vital role as an early career counselor and support system for aspiring songwriters and bands. As an initial point of contact for burgeoning artists, BMI serves as a fundamental bridge, connecting promising talent with industry decision-makers, as well as invaluable opportunities, including performance slots on stages at SXSW, the Austin City Limits Music Festival, Lollapalooza, and of course, the Bonnaroo Music and Arts Festival.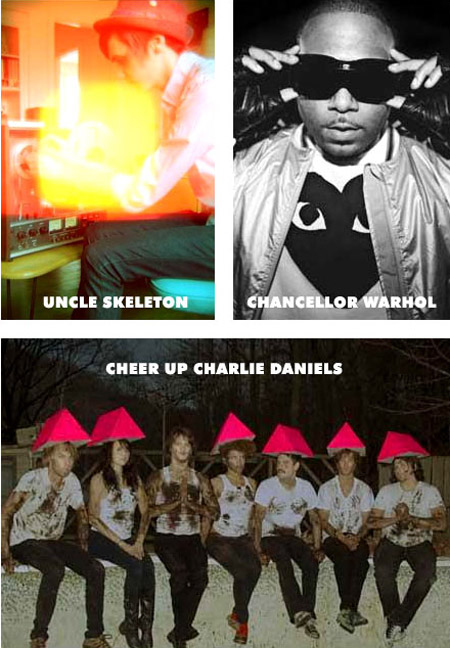 BMI'S "ROAD TO BONNAROO" WINNERS
UNCLE SKELETON
Thursday, June 9 – 1:00 p.m.
Troo Music Lounge
In late May 2010, Uncle Skeleton released Warm Under the Covers, twelve-tracks that wander boldly from dance-y electro to abstract instrumental musings. The brainchild of Ross Wariner, Uncle Skeleton's catchy melodies, perfectly designed for summer, carry over nicely into the live experience that blends futuristic blips and beeps with atmospheric synthesizers, hearkening back to the likes of Devo and Electric Light Orchestra.
CHANCELLOR WARHOL
Friday, June 10 – 12:00 p.m.
Troo Music Lounge
Chancellor Warhol is a Nashville-born, Souther-bred mc with the raw chops to turn grand ambitions into reality. His sound has been dubbed "cyber-rap"—a reference to its dreamy electro-laced grooves. An indie rock sensibility also informs Chancellor Warhol's hooks, but there's no navel-gazing here: in every track, the dance floor beckons.
CHEER UP CHARLIE DANIELS
Saturday, June 11 – 12:00 p.m.
Troo Music Lounge
Cheer Up Charlie Daniels roared onto the competitive Nashville scene in 2008 with ever-evolving stage shows and colorfully outlandish costuming. Their debut album, Live in '79, weaves outrageous frontman Neil O'Neil's often playful, occasionally absurd, lyricism with stinging sock-hop style melodies to create a genre-bending auditory adventure. Using their wealth of prodigious musical chops and unbridled musical enthusiasm, the band traverses territory as diverse as surf rock, country, power-pop, psychedelic and big band.
About Bonnaroo
The Bonnaroo Music and Arts Festival is a four-day, multi-stage camping festival held on a beautiful 700-acre farm in Manchester, Tennessee every June. Bonnaroo brings together some of the best performers in rock and roll, along with dozens of artists in complementary styles such as jazz, Americana, hip-hop, electronica, and just about any contemporary music you can think of. In addition to dozens of epic performances, the festival's 100-acre entertainment village buzzes around the clock with attractions and activities including a classic arcade, on-site cinema, silent disco, comedy club, theater performers, a beer festival, and a music technology village. For its peaceful vibe, near-flawless logistics, and unrivaled entertainment options, Rolling Stone magazine named this revolutionary entertainment experience one of the 50 moments that changed the history of rock and roll.
www.bonnaroo.com
About 8 off 8th
BMI proudly presents "8 off 8th," the free weekly showcase held 9 p.m. every Monday at Nashville music venue Mercy Lounge (1 Cannery Row, off 8th Avenue South). Hosted by a rotating lineup of music community impresarios, each night features eight local (and sometimes nationally touring) artists and serves as ground zero for Nashville's bourgeoning indie rock scene. Whether it's launching fledging acts fresh out of the garage or showcasing the latest buzz bands, 8 off 8th's rapid-fire three-song sets satisfy audiences chasing the next big thing.
www.bmi.com/showcases