BMI 'Book of Mormon' Composers Triumph at 2011 Tony Awards
BMI's tight-knit musical theatre family had plenty to celebrate Sunday night as BMI Lehman Engel Musical Theatre Workshop alumnus Robert Lopez and veteran BMI composer Larry Hochman took home statuettes in every music category at the 65th Annual Tony Awards. Lopez earned Best Original Score and Best Book of a Musical honors for his work on The Book of Mormon, while Hochman won Best Orchestrations for his contributions to the quirky runaway hit. Much of the evening belonged to The Book of Mormon, which earned a resounding nine awards, including Best Musical.
Lopez has deep roots in BMI's Tony-winning Lehman Engel Workshop. Along with Jeff Marx, he developed his 2004 Tony-winning Avenue Q whilst in his third year of the program; he returned to present songs for The Book of Mormon while that musical was being born.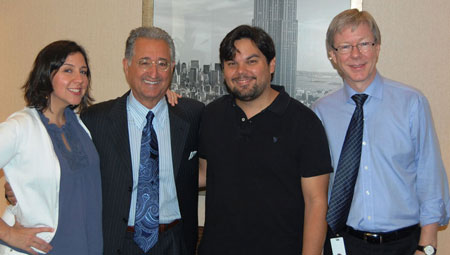 Composer Robert Lopez, fresh from winning multiple statuettes at the 65th Annual Tony Awards for
The Book of Mormon
, stopped by BMI's New York office for a congratulatory lunch in his honor hosted by Pat Cook, BMI's new Director of Musical Theatre & Jazz. Pictured are Lopez's wife, composer/lyricist Kristen Anderson-Lopez; BMI President & CEO Del Bryant; Lopez; and Cook.
"The Workshop has a unique place in the heart of the musical theatre community," says Pat Cook, a Lehman Engel alumnus who was recently named BMI Director of Musical Theatre & Jazz after serving as the Workshop's Artistic Director for a decade. "We have three core years of intense study, but once you're a member, you are a member forever. Bobby Lopez embodies that perennial spirit of camaraderie. He comes back to moderate third-year Workshops and to experiment with his own new material."
In addition to providing a haven for creative risks, the Workshop also helps forge the professional and personal relationships that will shape the next waves of theatre both on and off Broadway. Lopez is no exception: He met his wife, composer/lyricist Kristen Anderson-Lopez, in the program.
"Bobby is an exciting, original force, and his BMI family could not be prouder of him," Pat says. "Someone at one of the Workshops once told me, 'Oh, you all are doing God's work,'" he continues with a laugh. "And you know, I agree."
For more information on the 65th Annual Tony Awards, visit tonyawards.com. For more news, features, events, and photos highlighting BMI's musical theatre family, visit www.bmi.com/theatre.
2011 Tony Awards
BMI Winners

Best Musical
Robert Lopez
The Book of Mormon

Best Original Score
Robert Lopez
The Book of Mormon

Best Orchestrations
Larry Hochman
The Book of Mormon

Best Book of a Musical
Robert Lopez
The Book of Mormon