BMI Awards Scoring Scholarships to Students
BMI proudly awarded University of Southern California (USC) students Layla Minoui, Ludwig Goransson, Thomas Parisch, Brian H. Kim and Nathaniel Blume with BMI Film Scoring Scholarships for the 2007-2008 school year.
Created in 1992, the BMI Film Scoring Scholarship awards students in USC's Scoring for Motion Pictures and Television program at the Thornton School of Music. The acclaimed program offers student composers numerous opportunities to work with other student filmmakers and faculty including working professionals in the film, television and video game industry. The financial scholarship is based on composition and the level of performance the students demonstrate throughout the school year. The recipients are chosen by the faculty in Thornton's scoring program.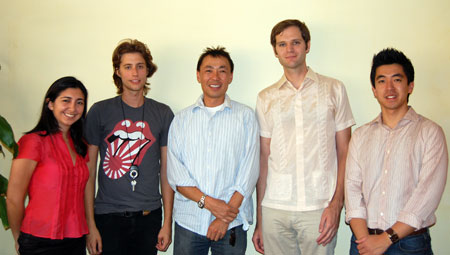 Shown at the presentation in BMI's Los Angeles office are (l-r): Scholarship recipients Layla Minoui and Ludwig Goransson; BMI's Ray Yee and recipients Thomas Parisch and Brian H. Kim. Not shown, recipient Nathaniel Blume who could not attend.