BMI Accepting Submissions for 14th Annual Unsigned Urban Showcase
BMI is currently accepting submissions for its 14th Annual Unsigned Urban Showcase, to be held in Atlanta on May 18, 2011 at The Buckhead Theatre. Aspiring artists from all urban genres, including r&b, rap and hip-hop, are encouraged to apply for the opportunity to perform at this lauded, star-spotting annual showcase. Four finalists will be selected to compete in front of a panel of music industry heavyweights, including top executives, artists, producers, managers and attorneys. The winner will receive an array of prizes: The '10 prize package included studio time, tickets to the BMI Urban Awards, a photo shoot and much more.
The deadline for submissions has been extended to Tuesday, March 29, 2011.

Interested performers need to be BMI-affiliated, and must join Sonicbids to submit an electronic press kit (EPK). Sonicbids, the leading matchmaking site for bands and music promoters, is offering a free two-week membership for new members. The EPK must include two songs, a promotional photograph, a biography, and a day/evening contact phone number. There is a $10 fee to submit your EPK on Sonicbids. Only the selected performers will be contacted.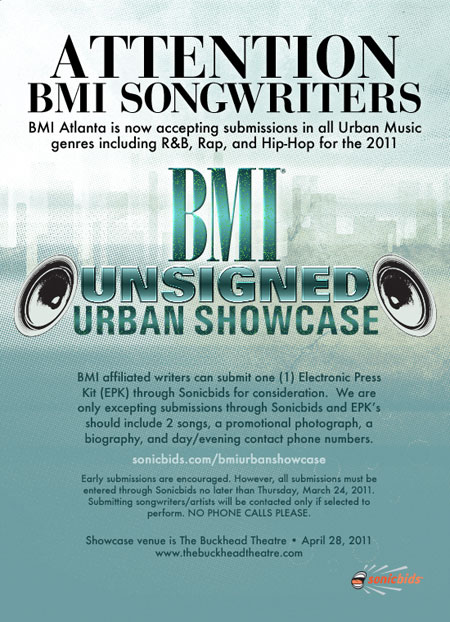 Last year's showcase, which attracted droves of Atlanta's influential music community, featured performances by showcase winner Nicoya, hip-hop heir-apparent Drake and Atlanta-bred Travis Porter. In addition, BMI presented rapper/producer Big Boi with the Legends of ATL Award, which recognizes a community leader for his or her contributions to the Atlanta music scene.