BMI Helps Celebrate the Legacy of Composer Jerry Goldsmith
On February 7, BMI's Anne Cecere had the honor of celebrating the man, the music, and the legacy of Jerry Goldsmith on what would have been his 90th birthday. During his more than five-decade career, Goldsmith composed the music for nearly 200 films, over a dozen iconic TV themes, and another 20 TV movies and miniseries. His credits, which are too many to list, include scores for Chinatown, Patton, Planet of the Apes, The Sand Pebbles, A Patch of Blue, Poltergeist, Basic Instinct, Papillon, Rambo, Rudy, Gremlins, Mulan, and L.A. Confidential. The winner of five Emmys for his television music, including the landmark miniseries QB VII and Masada, the TV-movies The Red Pony and Babe, and the theme for Star Trek: Voyager (1995), Goldsmith also received nine Golden Globe nominations for his film scores, as well as seven GRAMMY nods for his soundtracks. In addition, he received 18 Academy Award nominations, winning the Oscar in 1976 for his powerful orchestral and choral score for The Omen. The American Film Institute in Los Angeles, which is where the recent celebration sponsored by the Society of Composers & Lyricists took place, named Goldsmith's scores for Chinatown and Planet of the Apes among the top 25 film scores of all time.
The evening included a panel discussion focusing on the life of Goldsmith by those who have been indelibly influenced by his incomparable career and character. They included distinguished directors Joe Dante (Gremlins, Twilight Zone, The Burbs), Phil Alden Robinson (The Sum of All Fears, Field of Dreams, All of Me, Sneakers, Band of Brothers), BMI composer, songwriter and conductor Charles Fox (Happy Days, Lavern & Shirley, Love Boat, Killing Me Softly), legendary recording engineer and music producer Bruce Botnick (who recorded well over 100 movies for Goldsmith), and producer Robert Townson, known as the most prolific producer of film music in the world. The discussion was moderated by SCL Board Member and orchestrator, Mark McKenzie, whose credits include Dances With Wolves, Men in Black, Good Will Hunting, Spiderman 1 and 2, Mission Impossible, among many others. In addition, McKenzie, who is also a BMI composer, worked on the last six films that Goldsmith scored. Capping off the intimate look at Goldsmith's innumerable contributions, which came together by the efforts of SCL Board members Fletcher Beasley and Mark McKenzie with Goldsmith's wife Carol Goldsmith, was a fitting champagne reception.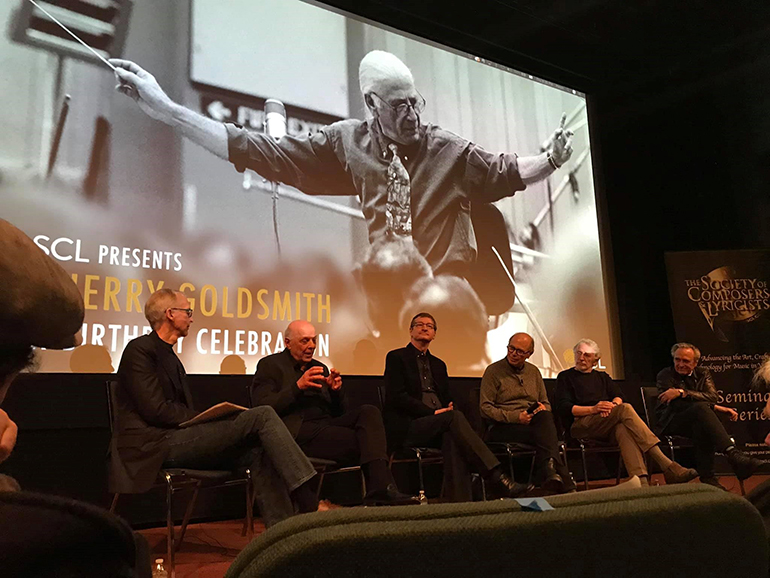 During the panel discussion, BMI composer and songwriter Charles Fox talked about his special working relationship with his lifelong friend Jerry Goldsmith, including when he toured and conducted Goldsmith's music overseas. Photo by Nick Vidar