BMI Composers Go All Out For Contestants at this Year's Online Comic-Con Game Show
This Sunday, July 26, at 4PM (PT), composers Lorne Balfe (@lornebalfe – credits include Mission: Impossible - Fallout), Ryan Elder (@ryaneldermusic – credits include Rick & Morty), Chris Lennertz (@clennertz – credits include The Boys), Jongnic Bontemps (@jongnic - credits include Call of Duty WWII), and Sonya Belousova (@sonyabelousova) & Giona Ostinelli (credits include The Witcher) will participate in a Hollywood Squares-like online game show as part of this year's hugely popular Comic-Con At Home. The talented scribes will answer trivia questions on topics like the Marvel Cinematic Universe, Buffy the Vampire Slayer, and even the Golden Girls, while two film music fans, contestants Sapphire Toth and Gareth Hughes, compete to win a soundtrack prize package. Hosted by BMI's (@bmi) Anne Cecere (@junecleaverlied) and White Bear PR's (@whitebearpr) Chandler Poling (@chandlerpoling), you can watch the action here when the link is live on Sunday at 4PM PST.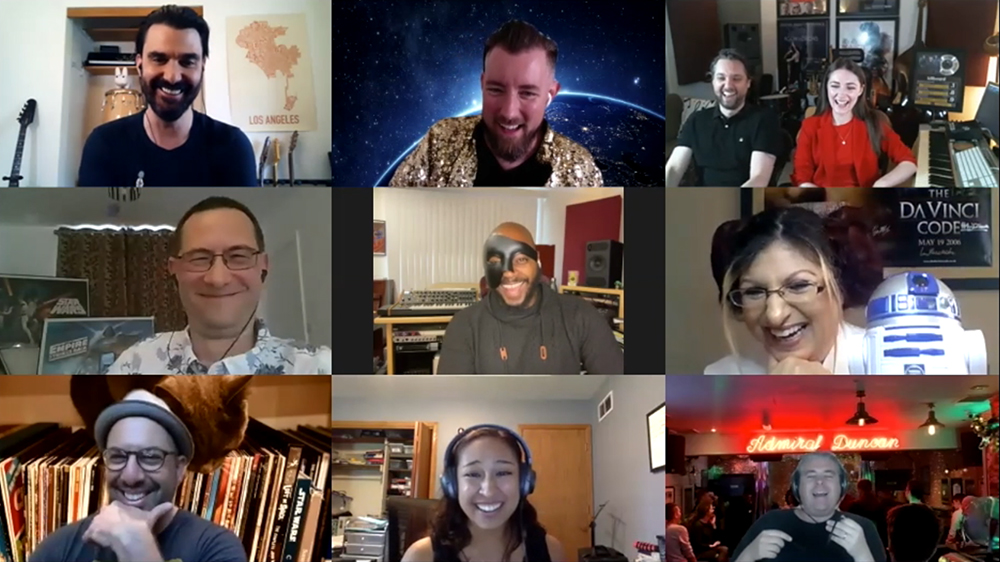 Pictured (Top Row L-R) are: Ryan Elder, Chandler Poling, Giona Ostinelli and Sonya Belousova. (Middle Row L-R): contestant Gareth Hughes, Jongnic Bontemps and Anne Cecere (AKA Princess Leia). (Bottom Row L-R) Chris Lennertz, contestant Sapphire Toth and Lorne Balfe.