BMI Composer Kathryn Bostic's 'The August Wilson Symphony' Heralded by PSO
On January 20, 2018, the GRAMMY-winning Pittsburgh Symphony Orchestra, under the direction of also GRAMMY-winning BMI composer/conductor Lucas Richman, triumphantly premiered BMI composer Kathryn Bostic's magnificent work, The August Wilson Symphony. The symphony, which consists of five movements, was inspired by poems and the ten plays of renowned playwright, August Wilson, based on his life experiences growing up in Pittsburgh's Hill District. In addition to this wonderful work, which mesmerized the audience with its breath of expression and texture, Bostic also scored several of Wilson's theatrical productions including Gem of the Ocean, Joe Turner's Come and Gone, and various productions of his last play, Radio Golf. Because of her collaboration with the legendary writer, Bostic also scored the PBS American Masters documentary August Wilson-The Ground on Which I Stand, which ultimately led her to create The August Wilson Symphony. 
In addition to her work with Wilson, Bostic's work on Broadway includes Bengal Tiger at the Baghdad Zoo with Robin Williams, by Pulitzer Prize finalist Rajiv Joseph. Her impressive music in the show garnered a Drama Desk win in the Sound Design category. She has also been nominated for several additional awards including the Ovation Award and NAACP Theater Award, as well as having received a Drama Desk nod for "Outstanding Music in a Play." A recipient of numerous fellowships including the prestigious Sundance Institute Time Warner Fellowship, Sundance Fellowship for Feature Film Scoring, Sundance/Skywalker Documentary Film Scoring and BMI Conducting Fellowship, Bostic has built a solid reputation for her outstanding work on award-winning films, TV and live theater. Awarded the Best Music in Film recognition by the African American Film Critics Association, the versatile composer also became the first female African American score composer in the Academy of Motion Picture Arts & Sciences in 2016.
As a gifted solo artist, Bostic has toured extensively in festivals and venues including The Copenhagen Jazz Festival, Ronnie Scott's, Birdland, Tokyo and Osaka Blue Note, and The Pori Jazz Festival. Bostic, who is also a talented vocalist, has also recorded and performed with many renowned artists including Nas, Ryuichi Sakamoto, and David Byrne. During the premiere of The August Wilson Symphony, Bostic joined the PSO performing her song "State of Grace" as a special memorial for Wilson.
BMI caught up with Bostic, who was still humbly glowing from all the well-deserved accolades of The August Wilson Symphony premiere. Here's what she had to say about her incredible journey:
You scored several of August Wilson's theatrical productions including Gem of the Ocean and Joe Turner's Come and Gone. What is it about his work that speaks to you?
August Wilson's storytelling through his plays has such an intimate lens on the complexities and conversations of life in the African American community. The emotional arc of his plays provide deep catharsis and revelation which are thematically universal. All of this speaks to me in a soundscape, not to mention the phrasing and cadence of his text, it's lush with musicality.
You also scored the PBS American Masters documentary, August Wilson-The Ground on Which I Stand. After doing so, did you discover anything new about him that helped you create The August Wilson Symphony?
I always recognized him to be a passionate and dedicated writer, but I didn't know how challenging a path he had in honoring what was so intrinsic for him. He had so many people telling him "no you can't do this," but his heart and spirit said "yes I can." He dropped out of high school in 10th grade because he kept hitting brick walls full of discouragement from his teachers who didn't believe his gift was genuine, but HE knew and this was his fuel. He went to the library for the next two years and taught himself!! How's that for determination and self-awareness! This really inspired me in a very profound way.
Phylicia Rashad served as narrator for the event, reading passages from August Wilson's plays before each movement of your work was performed. Can you describe how those quotes set the tone of your music for the audience?
The first movement is "The Great Migration" and the text to introduce this is the setting for his play Joe Turner's Come and Gone. The second movement, "The Hill Illumined," is about the mystical element in August Wilson's writing. He had a reverence for spiritual counsel and just plain old wise talk and this is an underlying energy in his work that I wanted to translate musically. The third movement, "Wiley Avenue," is introduced by text from one of his poems and speaks about the energy and excitement of the Hill district in Pittsburgh. The fourth movement, "The Oracle of Aunt Ester," is prefaced by text from his play Gem of the Ocean, the character Aunt Ester is the matriarchal archetype in all of his plays as well as being the central character in Gem of the Ocean. The fifth movement, "Exalted Roads of Truth and Triumph," is introduced with text from his play Joe Turner's Come and Gone. This movement reflects the voice of August Wilson through all of his characters and the divergent paths they have taken to forge their lives and self-awakening.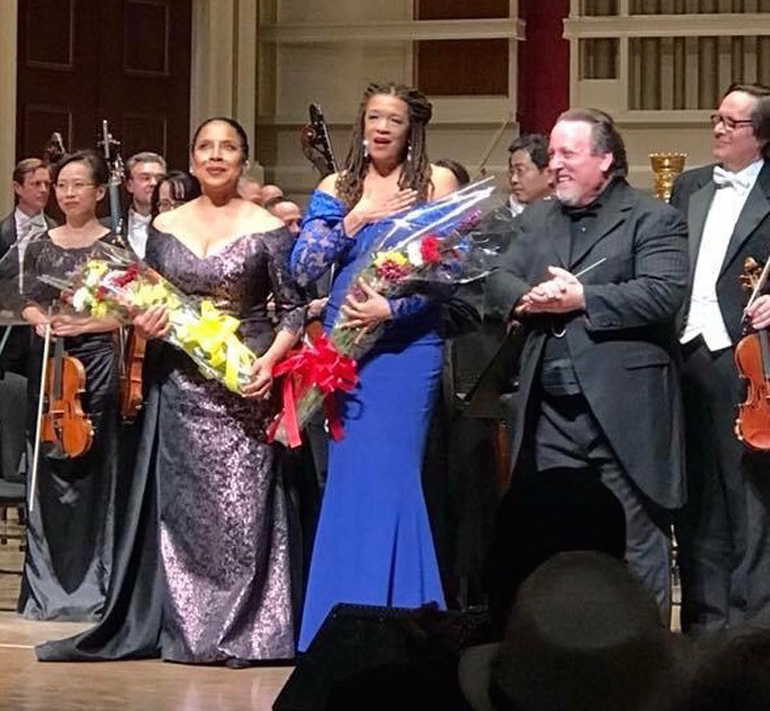 Narrator Phylicia Rashad, BMI composer Kathryn Bostic and BMI composer/conductor Lucas Richman receive the audience's approval at the conclusion of Bostic's The August Wilson Symphony.

What are your hopes for the future of The August Wilson Symphony?
I am planning on recording The August Wilson Symphony and would also like to have it performed worldwide. I think it's important for more people to know about the great legacy of August Wilson, one of the greatest American playwrights, and if I can create a conversation about this musically then that's wonderful!
In 2016, you became the first female African American score composer in the Academy of Motion Picture Arts & Sciences. Tell us about that experience.
I am extremely honored to be in the company of such highly acclaimed and accomplished talent and artistry. We are in a time of great change where old structures of perception and perspective are being challenged and deconstructed. I think there's a tipping point happening now that reflects this change and its impact is huge, albeit chaotic. Resistance to changing this imbalance is no longer acceptable. All institutions and institutionalized ways of thinking are being affected and we are looking at our state of humanity with a cold eye. The "isms," race, gender, age, sex, etc. are being scrutinized for their relevancy and fairness. I want to make choices that broaden conversation beyond these social constructs and "boxes" we've been accustomed to and one way for me is artistic activism.
How has your relationship with BMI impacted your career?
I've been in BMI-sponsored fellowships, e.g., the BMI Conducting Workshop and the Sundance Film Music Fellowship, which they co-sponsor. I met the conductor Lucas Richman during the BMI Conducting Workshop and years later I approached him about contacting the Pittsburgh Symphony Orchestra to premiere my composition The August Wilson Symphony. I wanted the Symphony to premiere in Pittsburgh as this is where August Wilson was born and where all but one of his plays take place. Mr. Richman had been a guest conductor for the PSO for several years, so this seemed like a great idea and it worked out beautifully, as he was able to conduct the premiere of The August Wilson Symphony. We had a very successful evening with an incredibly enthusiastic and supportive audience. I'm deeply appreciative. 
What's next for you?
I'm taking a day at a time and there is always music to write and perform!