BMI Brings 'Know Them Now' Showcase to Atlanta April 6
Hosted by Gipp Goodie of Goodie Mob, featuring performances by Minus Gravity, Good Girl, Sonny Digital, YFN Lucci, SahBabii and more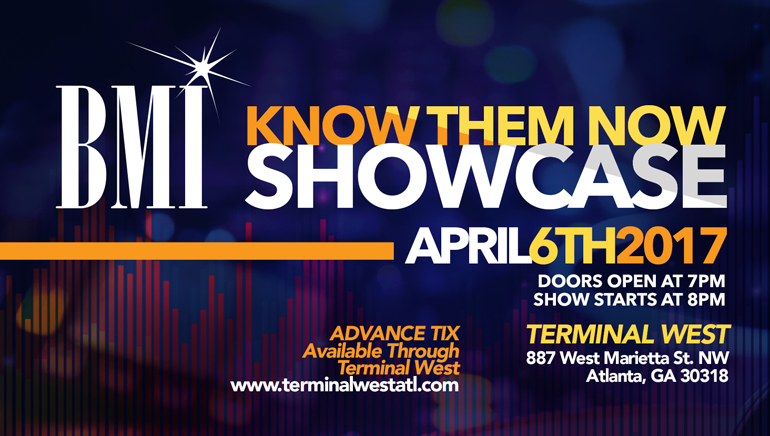 BMI will present the Know Them Now Showcase, an evening dedicated to shining a spotlight on some of the industry's hottest unsigned and emerging talent, on Thursday, April 6, at Terminal West (887 West Marietta St NW, Atlanta, GA). The show begins at 8 PM with doors opening at 7 PM. Limited advance tickets are $20.00 and available for purchase here: http://ticketf.ly/2mMHxr3. Attendees must be at least 18 years of age with valid identification.
Gipp Goodie of Goodie Mob will be on hand to emcee the evening, which provides BMI affiliates with an opportunity to showcase their talent in a room full of music fans and industry professionals. This year, ticket holders will be treated to performances by Dallas Austin's newest trio Minus Gravity, GRAMMY-nominated artist and producer Sonny Digital, powerhouse quartet Good Girl, recording artist YFN Lucci and teen rapper extraordinaire SahBabii. Special guest CeeLo Green is also slated to make an appearance. DJ KP The Great will keep the music spinning, and BMI Legends of Atlanta Award recipient (2013) and V-103 Radio DJ, Greg Street, will broadcast live.
For up-to-date information on the event, follow us on Twitter at @bmi. To see the complete line-up for the BMI Urban Showcase, please see below.
Minus Gravity: Atlanta-based trio, Minus Gravity, is ready to take over radio. Discovered by legendary Music Producer and CEO Dallas Austin, members Rob Will, Mic Apollo, and Sir-Blaze have developed a signature sound and are ready to push the boundaries of music to new levels. Their single "Foreign or Boring" is set to hit airwaves this spring.
Good Girl: As far as R&B girl groups are concerned, no one has been able to fill the void left by the departure of Destiny's Child. Enter powerhouse quartet Good Girl, who took last year's America's Got Talent stage by storm with an a cappella rendition of En Vogue's "Don't Let Go," bringing down the house and unanimously ushering them into the semi-finals of the competition. Comprised of Philadelphia natives Megan Nicolle, Arielle, JL and Bobbie, Good Girl is a youthful mix of influences from 90's groups like SWV, En Vogue and TLC up through Destiny's Child and the Hip Hop influenced R&B of today. The four-piece is eager to build on their hometown's legacy of musical excellence, using their God-given talent and work ethic to bring authenticity and freshness to today's music scene.
YFN Lucci: Atlanta-based recording artist, YFN Lucci, isn't new to the game. After releasing his first mixtape, Wish Me Well in 2014, he returned last year with the hard-hitting Wish Me Well 2 featuring his much buzzed about single "Key To The Streets" featuring Trouble and Migos. The single earned him a spot on Hot New Hip Hop and XXL's list of the Hottest 50 Songs of 2016. Recently featured on Kayla Brianna's "Work for It," Lil Durk's "Young Forever," the late Bankroll Fresh's "Dirty Game Remix," and TK Kravitz's "No Mind," YFN Lucci is gearing up for the release of his next EP, Long Live Nut, and working on new music for his yet-to-be-titled debut album.
Sonny Digital: GRAMMY-nominated artist and producer, Sonny Digital, has constructed an arsenal of hits with some of music's most prominent names, including Beyoncé, DJ Khaled, Meek Mill, Travis Scott, Lil Uzi Vert and 21 Savage. He's also scored home runs with smash singles like the platinum-selling "Tuesday" by ILoveMakonnen, "Racks" by YC, "Birthday Song" by 2 Chainz featuring Kanye West and "Same Damn Time" by Future. Now he's ready to step out of the booth and into the limelight with the 2016 release of his first solo project, G.O.A.T, showcasing his talent as an artist with the ability to write dope lyrics and create hit-making beats.
SahBabii: 19-year-old rapper SahBabii wasn't always into music, but at the insistence of his older brother, he eventually got behind the mic and never looked back. He released his first single "Rodeo" in 2012 and followed it up with his first mixtape Pimpin Ain't Eazy. Not even a year later, SahBabii released his sophomore effort, Glocks & Thots, which showcased his growing artistry and unique lyrical capabilities, attracting countless loyal followers and making the industry take notice. His most recent mixtape, SANDAS, dropped in the fall of 2016, featuring the breakout record "Pull Up With A Stick." The popular hit even caught the attention of international superstar Drake, who is now slated to jump on the highly-anticipated remix. As Hip Hop Weekly said, "be on the look-out because SahBabii is up next."