BMI and ASCAP Honor Dustin Lynch's Fifth Consecutive No. 1 "Small Town Boy"
Yesterday afternoon, friends, family and Music Row VIPs gathered at vintage arcade bar HQ Beercade to celebrate 2017's longest-running song of the year, "Small Town Boy," with songwriters Rhett Akins, Kyle Fishman, Ben Hayslip and Broken Bow artist Dustin Lynch. The four-week chart-topper had 2017's largest single-week audience and marks BMI songwriter Rhett Akins' and ASCAP songwriter Ben Hayslip's 23rd and 21st No. 1s respectively, as well as BMI songwriter Kyle Fishman's first.
The certified PLATINUM track was honored with presentations from Warner Chappell's Ryan Beuschel, Sony/ATV's Tom Luteran, Play It Again Music's Dallas Davidson, This Music's Rusty Gaston and Broken Bow's Executive VP, Jon Loba.
Lynch's chart-rising single "I'd Be Jealous Too" is now spinning at Country radio. Find him on the road this spring as he joins Brad Paisley as featured support on the Weekend Warrior World Tour.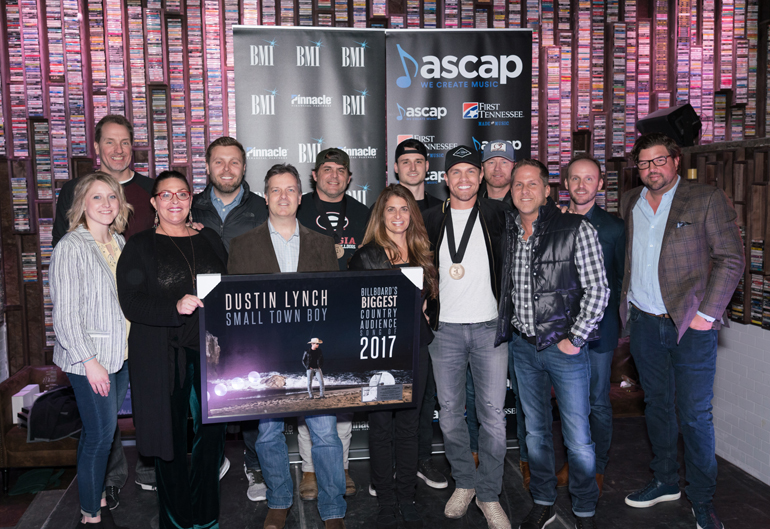 Standing (L-R): Zach Crowell, BMI's Josh Tomlinson, Sony ATV's Tom Luteran, Warner Chappell's Ryan Beuschel, Play It Again Music's Dallas Davidson, This Music's Rusty Gaston, ASCAP's Mike Sistad, Broken Bow's Jon Loba. Seated (L-R): BMI songwriter Rhett Akins, Dustin Lynch, BMI songwriter Kyle Fishman, ASCAP songwriter Ben Hayslip. Photo: Steve Lowry