Americana Music Association Shines Spotlight on Roots Artists
BMI continued its enthusiastic support of the Americana Music Festival and Conference this year, sponsoring the 9th annual installment of the roots music extravaganza. On Thursday, September 18, BMI's official showcase offered wistfully soulful singer/songwriter Sarah Siskind and melodically brazen rockers the Branded Sons. At the Americana Honors & Awards ceremony held in the historic Ryman Auditorium Thursday evening, BMI artists, producers and songwriters delivered stunning performances and took home loads of the organization's hand-crafted awards.
The ethereal Alison Krauss received resounding applause for her work with Robert Plant, as the pair earned Album and Duo/Group of the Year, while gospel and soul hybrid Mike Farris walked away with New Emerging Artist of the Year bragging rights. The association also doled out its prestigious lifetime achievement honors, the majority of which went to BMI legends. Iconic singer and songwriter John Hiatt received the Lifetime Achievement Award in Songwriting, while pioneering rock-roots synergists Jason and the Scorchers claimed Lifetime Achievement honors in the Performance field. Influential producer Tony Brown surprised folk and roots force Nanci Griffith with the 2nd annual Trailblazer trophy, and Griffith returned the honor in kind, presenting a Lifetime Achievement Award in the Producer/Engineer category to Brown.
The audience at the Ryman enjoyed performances from top tier BMI singer/songwriters including Joe Ely, Ryan Bingham, the original Jason and the Scorchers, the Sam Bush Band, Kane Welch Kaplin, The SteelDrivers, Tift Merritt, James McMurtry and Todd Snider.
2008 BMI AMA Honors & Awards Winners
Album of the Year Raising Sand Alison Krauss & Robert Plant
Duo/Group of the Year Alison Krauss & Robert Plant
New Emerging Artist of the Year Mike Farris
Lifetime Achievement Honors:
Lifetime Achievement / Songwriting John Hiatt
Jack Emerson Lifetime Achievement / Executive Terry Lickona
Lifetime Achievement / Performance Jason & The Scorchers
Trailblazer Nanci Griffith
Lifetime Achievement / Producer or Engineer Tony Brown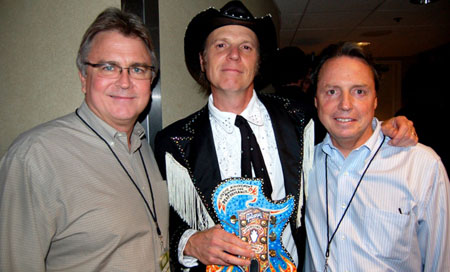 Legendary Nashville rock band Jason and the Scorchers took home a Lifetime Achievement Award. Pictured are (l-r) BMI's Phil Graham, Jason and the Scorchers' Jason Ringenberg and BMI's Jody Williams.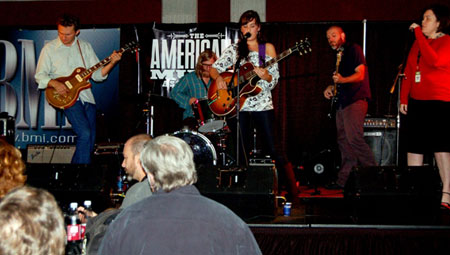 Sarah Siskind captivates the crowd at the BMI Americana showcase.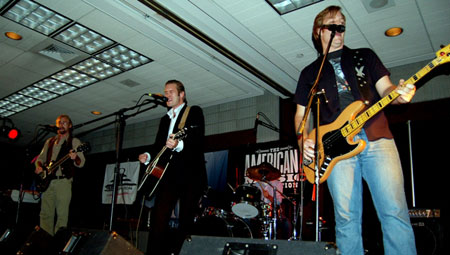 The Branded Sons rock the Americana coffee lounge.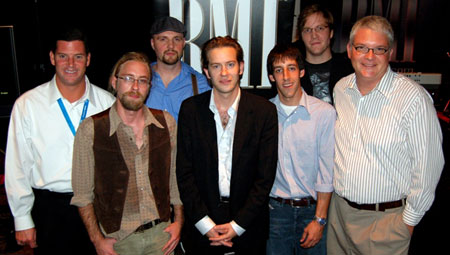 Pictured after the BMI showcase are (l-r): back row: BMI's Mark Mason, with the Branded Sons' Nate Clark and Mike Bair; front row: the Branded Sons' Dwayne Rushing, Laws Rushing and Jeff Brown, with BMI's Perry Howard.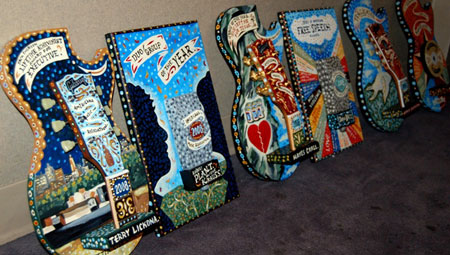 Each year at the Americana Music Honors & Awards, the association bestows the industry's arguably most unique and personalized awards on winners.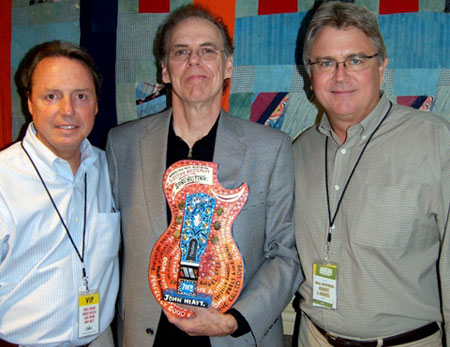 Pictured are (l-r): BMI's Jody Williams, Lifetime Achievement Award winner John Hiatt and BMI's Phil Graham.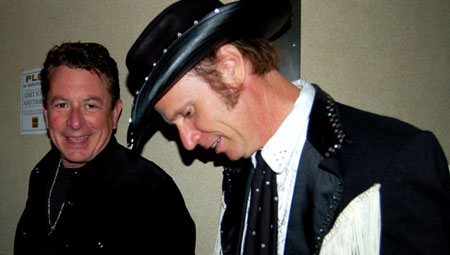 Joe Ely (left) chats with Jason Ringenberg (right) backstage at the Ryman.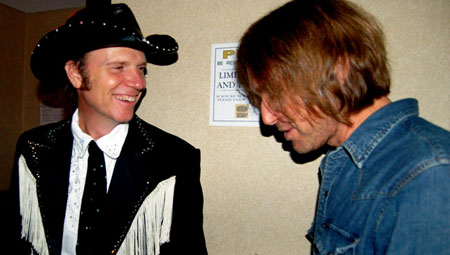 Todd Snider (right) cracks up Jason Ringenberg (left).