A Conversation With Rob Kleiner
The Grammy-nominated songwriter/producer on living the dream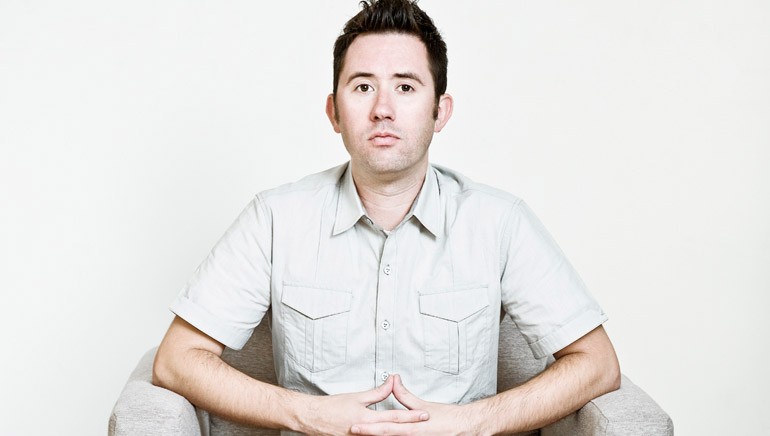 Ten years ago, if you'd told Rob Kleiner — whose recent production credits include Britney Spears, Kylie Minogue, Sia and The Weekend — that he'd be an in-demand pop songwriter and producer, he might not have believed you.
"It wasn't that I didn't like writing pop music," the BMI songwriter/producer explains from his home in Los Angeles. "I just didn't know much about getting into that world." Kleiner, who grew up in Chicago, wanted to write music for as long as he can remember. As a child, he took guitar lessons, but instead of practicing the songs his teachers gave him, he'd make up his own compositions. After graduating from Eastern Illinois University in 2000 with degrees in music composition and philosophy, he joined a few indie rock bands, playing 200 nights a year and touring all over the world.
"I didn't understand publishing royalties at all back then," Kleiner admits. "But my bands were getting college radio airplay, and people were telling me to protect and register my songs, so I started working with BMI when I started putting out indie records with my band." At this early stage in his career, Kleiner was just starting to learn about royalties, and how to manage a career in songwriting.
"I thought to write music, you had to be an artist, and that's what propelled me into being in bands," he says. "What I thought I wanted to do was scoring films. I was going on tours, I'd come home, I'd be broke, but I didn't want to get a regular job, I knew I needed to do music. I just had to, whether I was making money or not. I was scoring a lot of indie films, and I didn't really consider doing pop music."
Kleiner, who was still based in Chicago at the time, had grown proficient at songwriting, engineering, producing and performing after a decade of playing with various bands such as Tub Ring, Mindless Self Indulgence and Super 8 Bit Brothers. Kleiner was working with several independent directors on film scoring projects when a friend asked him to co-write a song for CeeLo Green. The song, "What Part Of Forever," was placed in The Twilight Saga: Eclipse soundtrack.
"Overnight, my life changed," Kleiner says. "It was the first time I'd ever tried to write a pop song. I thought, 'This is easy! I just made a lot of money! I should just move to L.A. and write a CeeLo song every day — I'll be rich!' " Kleiner laughingly acknowledges his naiveté, admitting that he knew he was pretty green when he moved to Los Angeles in 2011. In order to meet people and learn as much as he could about the local music scene, he took a job as an engineer at a studio. "I thought it would be a good way to make sure I could make ends meet in this city," he recalls. "I didn't necessarily want to be an engineer, but thought it would be a good gig."
Kleiner credits producers Mike Caren and Ben Maddahi, who are both A&R executives with Artist Publishing Group/Warner, for showing him the ropes in L.A. It was at Caren's studio where Kleiner first had the opportunity to work with Sia, who had yet to become a household name. At this initial session, Kleiner was engineering, and Sia was toplining, or writing the melody and lyrics for submitted tracks. Among these tracks from French producer/DJ David Guetta was the song that would become the hit "Titanium."
"I'd been a big fan of Zero 7 and her solo stuff," Kleiner says. "The very first day I was working with her, I was engineering, she was toplining. They gave her a bunch of David Guetta songs that he had finished, and I think ["Titanium"] was maybe the second song I played for her, she heard the opening with the guitar and said, 'This is the one.' She toplined through it on the very first listen, and 40 minutes later, she was done writing the melody, the lyrics, and tracking the final take that was actually on the album."
While Kleiner and Sia's first collaboration yielded "Titanium," their second session led to the recent Beyonce cut, "Pretty Hurts." "Sia is incredible," he enthuses. "I've been in rooms with so many writers at this point, whether I'm engineering, co-writing or producing, and she is in a category all of her own. She's A+, gold, platinum, titanium … no pun intended."
Another incredible person that Kleiner has had the pleasure of working with is music legend Quincy Jones. Kleiner's manager, Andrew Gould, recommended him for a project that Quincy was executive producing for Canadian jazz prodigy Nikki Yanofsky. "We did a couple of songs together and really hit it off, and Quincy asked me to do the whole album," Kleiner explains. "Just having Quincy Jones in the room makes the song better!"
The ever-versatile Kleiner also co-wrote on Yanofsky's album, and has several projects in the pipeline, producing and co-writing with artists including Andra Day, Lolo Pritchard, Max Schneider, LP, Candice Glover, Alessandra Amoroso and Greyson Chance. While he routinely changes hats as a producer, writer, musician, or engineer on projects that span across genres, Kleiner enjoys the challenge of flexing so many different creative muscles.
"I feel very fortunate to be able to do all of those things," he says. "It definitely gets me in way more rooms, and it makes me more of a commodity." But being a hot commodity isn't what drives Kleiner. For him, it's the love of making music, a love that he has nurtured since he was that little boy making up his own songs in his guitar lessons. "I love working every day," he says. "It's my dream to work in music. It's not even work, it's just what I want to do every single day."