A Conversation With Joel McNeely
BMI composer Joel McNeely knows how to stay busy. With more than 100 film and television credits to his name, McNeely also produces, conducts and arranges music. He has scored works by directors including George Lucas and James Cameron, written the music for all of Disney's Tinker Bell movies, brought old film scores back to life as a conductor of the BBC Concert Orchestra (as well as others) and produced and arranged music for artists like Norah Jones and Sara Bareilles. The Emmy Award winner's most recent project is the score for the upcoming Seth MacFarlane feature film comedy, A Million Ways to Die in the West, which comes out this month.
Utilizing his composing and conducting skills, McNeely recorded the soundtrack with a 95-piece orchestra, evoking what MacFarlane calls "a classic Elmer Bernstein-style Western score that presents itself as a key element in the tone of the movie." With Alan Jackson behind the microphone for the film's title song "A Million Ways to Die,"  and the aforementioned full orchestra recording of the score, at this point the music for the film is nearly as highly anticipated as the film itself. "It's a true performance. And in my humble opinion, the more Hollywood hears from this colossally talented composer in the future, the better off we'll be," MacFarlane continues. "There are those rare projects where the experience exceeds even the most irrational hopes," McNeely says of his work on the film.
The composer recently paused for a second to catch his breath and chat with BMI about the new movie, his process for picking projects, advice for aspiring composers and more.
Your next scored feature, A Million Ways to Die in the West, comes out in theaters May 30. What can we expect from the film and your score?
Coming from the mind of Seth MacFarlane, you can imagine what to expect from this comedy western. But what was totally unexpected to me was how sweet and good-hearted a film it is. It's actually a romantic comedy that's filthy! As to the score, Seth is as big a film score buff as you will meet, and he had very defined ideas about what kind of score he wanted. It's a big, sweeping, intentionally old school thematic orchestral score in the tradition of the great western composers like Bernstein, Newman and Morross. The music almost becomes a character in the movie as it never wavers from being earnest. Even if there is raunchy comedy on screen, the music plays it straight.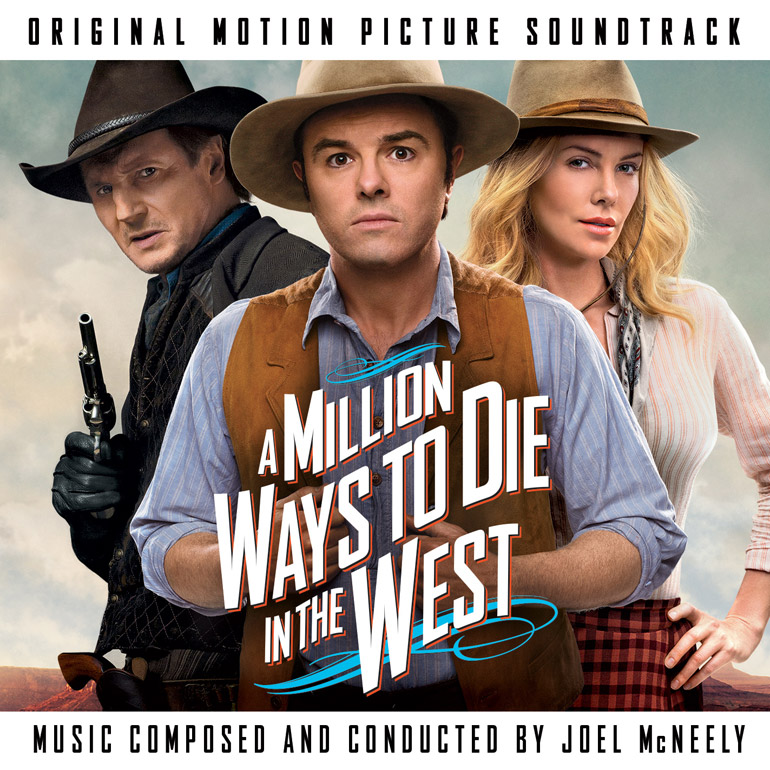 You've now worked with Seth MacFarlane on a film score, two albums and television scoring. How did you connect? Do you have any more collaborations planned down the line?
Seth told me he had a CD of my soundtrack to Radioland Murders in college. I wrote a lot of big band music for the film which he enjoyed. When he came to LA to do Family Guy, we met about my working on the show, which did not wind up happening. But years later he called and asked if I'd work on American Dad. When he asked me to do the first big band album, I actually hadn't written for that kind of group since Radioland Murders, 15 years earlier. I had to dig out the scores and figure out how to do it again. As to future collaborations, I love working with Seth, and I hope to have the privilege of working with him for many more years.
The variety in your body of work is incredible, ranging from scoring James Cameron works to producing pop music. How do you select your projects?
I try to work on things that interest and excite me, things that utilize my strengths and/or interesting people I want to work with. And I love variety. I remember Dave Grusin telling me at the beginning of my career how he loved project diversity. He said once he finished a film, he was sick of doing movies and would do a record. After the record he'd be tired of that and would want to do another film. That's kind of how it's been for me. And I love working in the pop world. I work a lot with producer Greg Wells, who is one of the most talented, interesting musicians I know.
You studied music performance and composition. How did you branch out into recording, production and conducting?
Conducting was part of my training at Eastman, but there is no real substitute for just doing it a lot. When I did The Young Indiana Jones Chronicles, I had to write massive amounts of orchestral music. Conducting that show was my boot camp. As for producing, it's like anything else, the more you know the better you'll be at it. I'm always doing homework, studying various recording techniques and listening like mad. I also found once I started producing records that it took a huge amount of organizational work. That was something I had to learn to be good at.
What advice do you have for aspiring film and television composers?
Learn the craft. Learn to write, not just to write for samples but how to compose. Know the history of film music. Be able to tell a Bernard Herrmann score from an Alex North score. Learn harmony and counterpoint from the beginning. Study Bach onward. Everything you need to know is in that music. Study Ravel to learn orchestration. Then, equally as rigorously study the technical side of things, recording, DAWs, samples and notation software. Once the toolbox is full, you'll be able to look inside yourself to identify what you want your unique voice to be and be able to execute it because you've built your house with a strong foundation.
Can you tell us about your relationship with BMI?
BMI is my home and that's because of the excellent work they do. The foundation work, the workshops, the fostering of the craft is all critical these days. And it all comes back to one very special person, Doreen Ringer-Ross!