12 Days of BMI Holiday Songs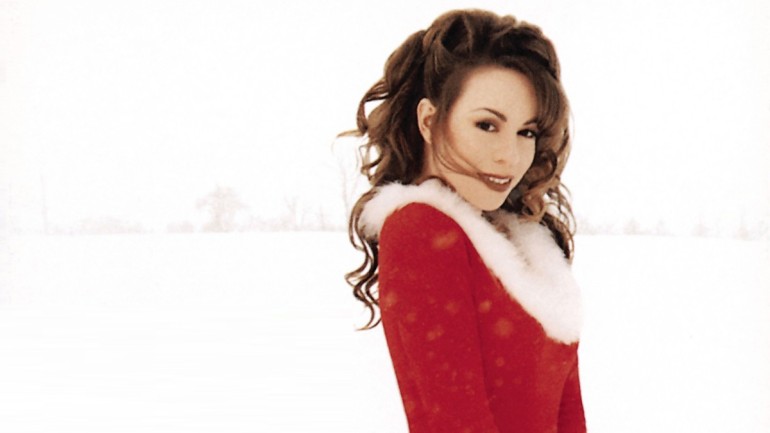 Here at Broadcast Music, Inc., we love the holiday season, because we have an excuse to play some of our favorite festive tunes by BMI songwriters - from classics like Darlene Love's "Christmas (Baby Please Come Home)" to Mariah Carey's greatest gift to the world, "All I Want For Christmas Is You." In the 12 days leading up to Christmas, we'll gift you with a holiday song a day and a fun story behind it.
Happy Holidays to you and yours!
12 Days of BMI Holiday Songs
"All I Want for Christmas Is You" by Mariah Carey
Released in 1993, "All I Want for Christmas is You" was co-written and co-produced by Carey for her fourth studio album, Merry Christmas, which has sold more than 15 million copies around the world. It's one of the best-selling holiday songs of all time and the first holiday ringtone to be certified double-platinum. Interestingly enough, in his 2013 memoir, Carey's ex-husband Tommy Mottola claims she was hesitant to record a Christmas album at first, but judging by her most recent appearance on The Today Show, it now has a very special place in her heart - and ours!
"Christmas (Baby Please Come Home)" by Darlene Love
You probably recognize Love from her role in the Lethal Weapon film franchise, but as a background singer in the 1960s, Love's voice can also be heard on tracks by Elvis Presley, Sam Cooke, Dione Warwick and Aretha Franklin. She is featured in a new documentary called Twenty Feet From Stardom, released earlier this year. Watch her most recent visit to her friend David Letterman's show in June, when she shared stories of Phil Spector and Elvis. Now 72 years old, Love has performed "Christmas (Baby Please Come Home)" on Letterman's last episode before Christmas every year since 1986, except once.
"Santa Claus Go Straight to the Ghetto" by James Brown
In 1968, the year this song was released, Brown dressed up as Santa Claus and passed out 3,000 gift certificates for free Christmas dinners to the residents of some of New York's poorest neighborhoods. Long live the Godfather of Soul!
"This Christmas" by Carole King
Cool fact: Carole King received the BMI Icon designation at the 2012 Annual BMI Pop Awards, recognizing the "unique and indelible influence on generations of music makers" she has had through her incomparable catalog as a songwriter and recording artist. In 2014, she will be honored as the MusiCares Person of the Year. The Dixie Chicks, Lady Gaga, Bette Midler, Jason Mraz, James Taylor and Steven Tyler will all perform in King's honor at the ceremony held January 24.
"Feliz Navidad" by Thalía & Michael Buble
Thalía, who beautifully covered José Feliciano's holiday classic with Buble, was just honored with her very own star on the Hollywood Walk of Fame, making history as the first-ever Mexican-born singer to have a star there. Congrats, Thalía!
"Santa Looked A Lot Like Daddy" by Buck Owens
Written by Buck Owens and Don Rich (Buck's best friend, frequent co-writer and lead guitar player) in 1965, "Santa Looked A Lot Like Daddy" is the standout cut on Owens' Christmas With Buck Owens, and has been covered by Garth Brooks, Brad Paisley, Reverend Horton Heat and more.
"Back Door Santa" by Clarence Carter
This Christmas staple was co-written with Marcus Daniel for Carter's 1968 compilation Soul Christmas and serves as the main hook sample for Run-D.M.C.'s classic "Christmas in Hollis." Bon Jovi, Jet and the Black Crowes are just some of the artists who have covered it.
"El Burrito de Belén" by Juanes
No holiday season in a Latin household is complete without Juanes' festive take on "Mi Burrito Sabanero." The Colombian superstar, who was honored with a President's Award at the 2010 BMI Latin Awards, just released his new single, "La Luz" (take a listen here). It's the first taste of his forthcoming album, due in 2014. Now we know what to look forward to next year!
"Joy to the World" by Michael Bolton
In early 2013, Bolton released a memoir titled, The Soul of it All, My Music, My Life, which chronicles his four decades in the music industry and gets personal about his highs and lows. A must-have for all diehard Bolton fans!
"Carol of the Bells" (instrumental) by David Foster
A 16-time GRAMMY winner, Emmy and Golden Globe winner, Oscar nominee, and member of the Songwriters Hall of Fame, Foster says one of the best pieces of advice he's ever gotten came from Quincy Jones, who said: "If something isn't exactly the way you think it should be, don't put your name on it." Wise words - and clearly, it's worked wonders for him. Big-time artists continue to recruit his production talents for holiday albums, including, most recently, Mary J. Blige.
"Christmas in Hollis" by Run D.M.C.
Run D.M.C. made history in 1984 with their self-titled debut, rap's first gold album. In 1985, they made history again, with King of Rock, rap's first platinum album. With "Walk This Way," their epic collaboration with Aerosmith, they forever blurred the lines between rap and rock. This holiday classic features samples from "Back Door Santa" by Clarence Carter, "Joy to the World" and "Frosty the Snowman." Although it was a mainstream hit, it also managed to stay true to hip-hop and the realities of the street.
"Christmas in Dixie" by Alabama
A celebration of a traditional Southern Christmas, the Alabama standard "Christmas in Dixie" is known around the world and has been translated into Japanese, German and Spanish. Artists who have covered the classic include Kenny Chesney and the Blind Boys of Alabama.