The BMI Jazz Composers Workshop is led by composers/educators Andy Farber, Musical Director, and Alan Ferber, Assistant Musical Director.
Andy Farber
Musical Director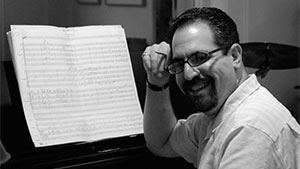 Andy Farber is a Long Island native from an artistic family – his father a jazz drummer, his mother an artist and amateur pianist. Summers of his youth were spent at the Usdan Centre for the Arts on Long Island where he studied jazz saxophone with Eddie Wasserman and classical oboe with Lois Wann. Through his teen-age years, Farber attended summer jazz workshops at The Manhattan School of Music, and Jamey Abersold's Jazz Camp. Farber continued his jazz studies with Budd Johnson, Chris Woods, Arnie Lawrence, Dave Burns, Wes Belcamp, and Billy Mitchell, and studied composition and arranging with Carl Strommen and Mitch Farber (his uncle). At 12, Farber wrote his first big band composition and at 17 became a member of The Tri-state McDonalds' Jazz Ensemble, performing with guest soloists Randy Brecker, Branford Marsalis, Dave Valentine, and Steve Turre.
Farber continued his education at NYC's Manhattan School of Music, where he studied jazz composition with David Berger and Mike Abene, and was awarded the Manny Albam prize for jazz composition. During this time, Farber formed and led his own quintet – The Hard Bop Repertory Company, which he expanded into a 15-piece ensemble, Andy Farber & his Orchestra (AFO). AFO performed original compositions regularly at the West End Gate in NYC for a year and a half.
In '93 Farber met jazz vocalese legend Jon Hendricks and collaborated on his CD "Boppin' at the Blue Note", writing arrangements that featured Jon and guests Al Grey, Wynton Marsalis, Benny Golson, Red Holloway, and Clark Terry, and joined The Jon Hendricks Explosion as saxophonist and arranger. Following Farber's tenure with Hendricks, he toured with Wynton Marsalis and the Jazz at Lincoln Center Orchestra (JLCO) on tenor saxophone. Farber continues to work with Jazz at Lincoln Center.
Farber has written arrangements for Shirley Horn, Bobby Short, Joe Lovano, Joe Temperley, Regina Carter, Lee Konitz, Ernestine Anderson, George Benson, Willie Nelson, Paul Simon, Stevie Wonder, B.B. King, Bob Dylan, Ray Charles, Frankie Laine, Ann Hampton Calloway, Alan Harris, Cynthia Scott, Billy Stritch, Joe Piscopo, Robert Downey Jr., Fantasia Barrino, Vanessa Williams, Roseanna Vitro, Catherine Russell, The Boston Pops Orchestra, The Philly Pops Orchestra, The Boca Pops Orchestra and several symphony orchestras throughout Europe.
Farber has been a guest conductor of the JLCO, the Winnipeg Jazz Orchestra, and the Bronx Arts Ensemble, in addition to university and high school ensembles. His work as arranger, conductor and instrumentalist can be heard on numerous jazz recordings. Outside of the jazz arena, Farber occupies his time composing music for media including TV commercials, TV shows, web series, documentaries, and feature films. He is also busy as an orchestrator and conductor for other film and TV composers.
As a music educator, Farber teaches jazz composition and arranging at The Juilliard School in NYC. As a clinician he conducts honor bands, gives workshops and master classes, and composes original big band compositions for high school, published by Smart Chart Music.
Farber's led many band configurations, from The Hard Bop Repertory Company (quintet), to Andy Farber & his Swing Mavens (eight-piece ensemble), to Andy Farber & his Orchestra (17-piece big band), which enjoyed a two-year run at Birdland in NYC. In 2013 Wynton Marsalis tapped Farber to assemble The Jazz at Lincoln Center All Stars featured on stage in the Broadway musical "After Midnight", which was nominated for 7 Tony awards. Farber continues to lead the band (renamed The After Midnight Orchestra (AMO)), which backed Tony Bennett and Lady Gaga for their PBS special "Cheek to Cheek Live". The AMO appeared at the Rainbow Room, Jazz Standard, and Players Club as part of the Hot Jazz Festival in NYC. The AMO features guest singers such as Catherine Russell and Rebecca Kilgore, and continues to perform and record.
Alan Ferber
Assistant Musical Director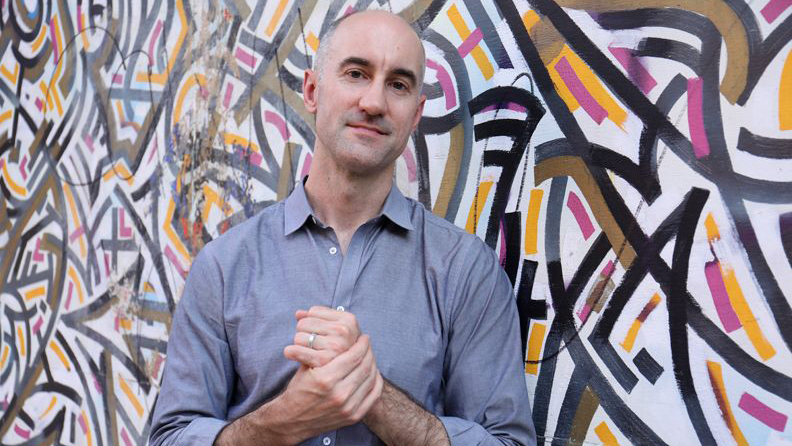 Three-time GRAMMY-nominated trombonist, composer, and arranger, Alan Ferber, has been called "one of the jazz world's premier composers and arrangers for larger groups" by All About Jazz NY. Jazz Times magazine describes his compositions as "inspired and meticulous," and LA Weekly deems him "one of the premier modern jazz arrangers of our time." For the last seven years, Ferber has been recognized by Down Beat magazine's International Critics' Poll and Readers' Poll as one of the leading trombonists of his generation. Ferber was the recipient of a 2013 New Jazz Works grant from Chamber Music America, funded by the Doris Duke Foundation, and since 2011, he has been an adjunct professor of jazz studies at New York University's Steinhardt School.
Ferber's aesthetic prescribes a deep knowledge of the jazz tradition as a means toward meaningful innovation. Appropriately, the Wall Street Journal describes his music as "somehow both old school and cutting edge." He has released eight albums as a bandleader, the most recent being Jigsaw, in which he led a 17-piece big band (Sunnyside Records, 2017). Down Beat magazine listed it as one of the best albums of 2017, and it was later nominated for a 2018 GRAMMY Award for Best Large Jazz Ensemble Album. Both his 2016 album, Roots & Transitions, and his 2013 project, March Sublime, also received GRAMMY nods. Ferber's 2010 release, Chamber Songs: for Nonet & Strings, received a coveted four-star review in Down Beat and was ranked among their picks for best album of the year.
Ferber's music draws from a broad stylistic base informed by the array of artists with whom he has worked. In the jazz world, he has performed and/or recorded with Best New Artist GRAMMY winner Esperanza Spalding's Radio Music Society, the Dr. Lonnie Smith Octet, the Ted Nash Big Band, Todd Sickafoose's Tiny Resistors, MacArthur Fellow Miguel Zenon's Identities Big Band, the Toshiko Akiyoshi Jazz Orchestra, the Charlie Hunter Quintet, Michael Formanek's Ensemble Kolossus, the David Binney/Edward Simon Group, the Lee Konitz Nonet, John Ellis's Double Wide, the Dafnis Prieto Big Band, the John Hollenbeck Large Ensemble, and Don Byron's Mickey Katz Project. He has worked extensively in other genres, as well, including with artists including Peter Gabriel, Paul Simon, Sufjan Stevens, The National, Dr. Dre, Harry Connick Jr, Michael Bublé, and Beirut. His discography lists over 150 albums on which he has played trombone and/or composed and arranged music.
Ferber's accomplishments as a writer are equally diverse. His recent work as a composer-arranger include ten 17-piece big band arrangements for Broadway star Shoshana Bean's album, Spectrum, two big band arrangements of Joni Mitchell compositions featuring vocalist Tutu Puoane with the Brussels Jazz Orchestra on their album, We Have A Dream, and two commissions for Kopi Luwak and Luteous Pangolin. Additionally, he has written for the Atlantic Brass Quintet, Sara and Rachel Caswell, and Nelson Foltz, among many others. His work on Korean pianist Youngjoo Song's Reflection album led to a Jazz Album of the Year nomination at the 2015 Korean Music Awards.
In addition to his work at New York University, Ferber has also been on faculty at the John J. Cali School of Music at Montclair State University, the Peabody Institute at Johns Hopkins University, and the New School for Jazz and Contemporary Music. He has worked regularly on the faculties of several summer jazz programs, including the Taipei International Summer Jazz Academy, the Stanford Jazz Workshop, the Lafayette Summer Music Jazz Workshop, Cal State University's Summer Arts Perspectives In Jazz program, and the Maine Jazz Camp. Beyond that, Ferber has appeared as a clinician and soloist with numerous universities including Stanford University, the University of Oregon, Cal State Northridge, Kansas University, the University of Miami, the Lawrence Conservatory, Middle Tennessee State University, and the University of Nevada Las Vegas.