The BMI Jazz Composers Workshop is led by composers/educators Andy Farber, Musical Director, and Ted Nash, Associate Musical Director.
Andy Farber
Musical Director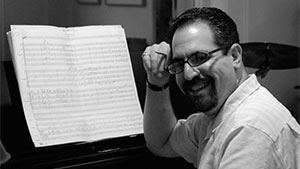 Andy Farber is a Long Island native from an artistic family – his father a jazz drummer, his mother an artist and amateur pianist. Summers of his youth were spent at the Usdan Centre for the Arts on Long Island where he studied jazz saxophone with Eddie Wasserman and classical oboe with Lois Wann. Through his teen-age years, Farber attended summer jazz workshops at The Manhattan School of Music, and Jamey Abersold's Jazz Camp. Farber continued his jazz studies with Budd Johnson, Chris Woods, Arnie Lawrence, Dave Burns, Wes Belcamp, and Billy Mitchell, and studied composition and arranging with Carl Strommen and Mitch Farber (his uncle). At 12, Farber wrote his first big band composition and at 17 became a member of The Tri-state McDonalds' Jazz Ensemble, performing with guest soloists Randy Brecker, Branford Marsalis, Dave Valentine, and Steve Turre.
Farber continued his education at NYC's Manhattan School of Music, where he studied jazz composition with David Berger and Mike Abene, and was awarded the Manny Albam prize for jazz composition. During this time, Farber formed and led his own quintet – The Hard Bop Repertory Company, which he expanded into a 15-piece ensemble, Andy Farber & his Orchestra (AFO). AFO performed original compositions regularly at the West End Gate in NYC for a year and a half.
In '93 Farber met jazz vocalese legend Jon Hendricks and collaborated on his CD "Boppin' at the Blue Note", writing arrangements that featured Jon and guests Al Grey, Wynton Marsalis, Benny Golson, Red Holloway, and Clark Terry, and joined The Jon Hendricks Explosion as saxophonist and arranger. Following Farber's tenure with Hendricks, he toured with Wynton Marsalis and the Jazz at Lincoln Center Orchestra (JLCO) on tenor saxophone. Farber continues to work with Jazz at Lincoln Center.
Farber has written arrangements for Shirley Horn, Bobby Short, Joe Lovano, Joe Temperley, Regina Carter, Lee Konitz, Ernestine Anderson, George Benson, Willie Nelson, Paul Simon, Stevie Wonder, B.B. King, Bob Dylan, Ray Charles, Frankie Laine, Ann Hampton Calloway, Alan Harris, Cynthia Scott, Billy Stritch, Joe Piscopo, Robert Downey Jr., Fantasia Barrino, Vanessa Williams, Roseanna Vitro, Catherine Russell, The Boston Pops Orchestra, The Philly Pops Orchestra, The Boca Pops Orchestra and several symphony orchestras throughout Europe.
Farber has been a guest conductor of the JLCO, the Winnipeg Jazz Orchestra, and the Bronx Arts Ensemble, in addition to university and high school ensembles. His work as arranger, conductor and instrumentalist can be heard on numerous jazz recordings. Outside of the jazz arena, Farber occupies his time composing music for media including TV commercials, TV shows, web series, documentaries, and feature films. He is also busy as an orchestrator and conductor for other film and TV composers.
As a music educator, Farber teaches jazz composition and arranging at The Juilliard School in NYC. As a clinician he conducts honor bands, gives workshops and master classes, and composes original big band compositions for high school, published by Smart Chart Music.
Farber's led many band configurations, from The Hard Bop Repertory Company (quintet), to Andy Farber & his Swing Mavens (eight-piece ensemble), to Andy Farber & his Orchestra (17-piece big band), which enjoyed a two-year run at Birdland in NYC. In 2013 Wynton Marsalis tapped Farber to assemble The Jazz at Lincoln Center All Stars featured on stage in the Broadway musical "After Midnight", which was nominated for 7 Tony awards. Farber continues to lead the band (renamed The After Midnight Orchestra (AMO)), which backed Tony Bennett and Lady Gaga for their PBS special "Cheek to Cheek Live". The AMO appeared at the Rainbow Room, Jazz Standard, and Players Club as part of the Hot Jazz Festival in NYC. The AMO features guest singers such as Catherine Russell and Rebecca Kilgore, and continues to perform and record.
Ted Nash
Associate Musical Director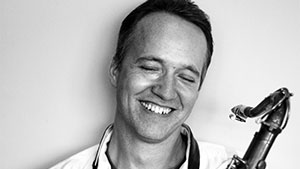 Multi-instrumentalist Ted Nash's interest in music started at an early age. Exposed to music and encouraged by his father, trombonist Dick Nash, and uncle, reedman Ted Nash - both well-known studio and jazz musicians - the younger Nash started playing the piano when he was seven. By the time he turned 12, he had started playing the clarinet; a year later he picked up the alto sax.
Nash blossomed early, a "young lion" before the term became marketing vernacular. In high school Nash had the good fortune to study jazz improvisation with Charlie Shoemake, the innovative teacher and well-respected vibraphonist. Nash's first gig came when he was only 16. At that young juncture he played a week in Hawaii with legendary vibraphonist and band leader, Lionel Hampton. The same year he won an audition to play lead alto with the Quincy Jones band, and by the time he was 17 Nash had toured Europe, appeared on three records, and was performing regularly with the likes of Don Ellis, Louie Bellson and Toshiko Akiyoshi, as well as leading his own quintet.
When he turned 18, Nash decided to make the move and come to New York City. It wasn't long before he had recorded Conception (Concord), his first album as a leader. During his first three years in New York Nash became a regular member of a variety of ensembles. He worked with the Gerry Mulligan Big Band, the National Jazz Ensemble. He also began what would be a 10-year association as a member of the Mel Lewis Jazz Orchestra.
Ted Nash has been a composer since he was 15. Bellson recorded his first composition, "Tristemente," on his album Raincheck (Concord) which featured, along with Nash, the great trumpeter Blue Mitchell. In 1994, Nash received a commission from the Davos Musik Festival in Switzerland to compose works featuring a string quartet in a jazz setting; it was the seed that led to his forming his group Double Quartet and subsequently to his recording Rhyme and Reason (Arabesque). The effort was extremely well-received. Jazz Times magazine voted it one of the best releases of 1999.
One of Nash's most important associations is with the Jazz at Lincoln Center Orchestra with Wynton Marsalis. A recent commission by the JLCO, "Portrait in Seven Shades," was recorded by the Orchestra released in February, 2010, followed by a month-long tour. This recording, a first-ever JLCO release devoted to original music by a band member other than Wynton Marsalis, has been credited by Ted Panken in Downbeat Magazine as marking a new direction for the Orchestra. For this work Nash received his first Grammy nomination as best arranger. Writing in The New York Times critic Nate Chinen noted that "Mr. Nash came to the band with a wellspring of jazz experience," but that it "took a while to adjust," given his modern leanings. "It didn't take long for Mr. Nash to lay claim to what Mr. Marsalis calls 'the wildcard chair' in the band." Chinen would then quote Marsalis: "He plays, on a virtuosic level, all of the reed instruments. He plays them all perfectly in tune, and has a personality on each one that's different. And he can read music unbelievable well."
Nash, while always mindful of traditions, reaches well outside a "traditional" nexus. His eclectic group Odeon has garnered much attention in the jazz world and received features and in-depth mentions from publications such as The New York Times, Village Voice, Boston Globe, and New York Newsday. Said the Los Angeles Times after hearing this group at the Jazz Bakery, one of the area's best clubs: "You say jazz is having trouble these days finding a creative focus? Don't believe it. Go to the Jazz Bakery tonight to hear saxophonist Ted Nash's marvelous group Odeon, and any doubts will quickly be dispelled. What this Los Angeles native is demonstrating with Odeon is the fact that—far from being on a down slope—jazz is in a period of extraordinary opportunity." Gary Giddins, in a Village Voice feature, singled out the first track from Odeon's "Sidewalk Meeting," an adaptation of Debussy's "Premiere Rhapsodie," as his favorite from all the jazz CDs recorded in 2001.
In addition to leading his own groups, Nash has been very instrumental (along with Ben Allison, Frank Kimbrough, and Michael Blake) in the New York-based Jazz Composers Collective. For over fifteen years this musician-run, non-profit innovative entity was dedicated to presenting the original works of composers who are pushing the boundaries of their self-expression. Nash can be heard on several acclaimed CDs produced by the organization, including The Herbie Nichols Project's Love is Proximity (Soul Note), Dr. Cyclops' Dream (Soul Note) and Strange City (Palmetto).