May 6, 2019
BPMs: Music & Online Fitness Panel @ Music Biz 2019: Nashville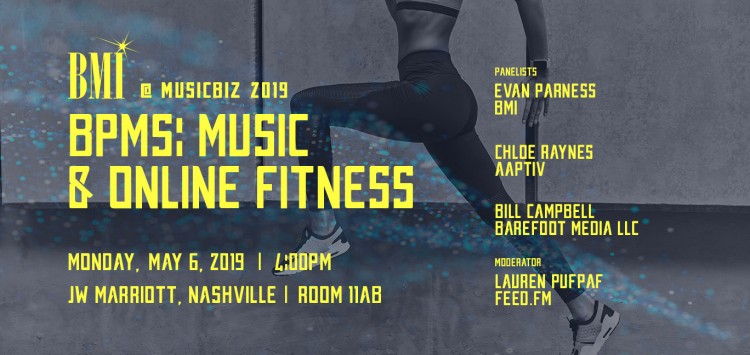 Music Biz 2019 panel, "BPMs: Music & Online Fitness," will take place at the JW Marriott Nashville, Room 11AB, at 4:00 PM.
This panel, moderated by Lauren Pufpaf is COO and Co-founder of Feed.fm, will discuss how the music and fitness industries are working in concert to bring innovative fitness products to the market and how they are driving new music revenues.
Panelists:
Evan Parness - Executive Director of Digital Licensing, BMI
Chloe Raynes - Director of Music Licensing & Partnerships, Aaptiv
Bill Campbell - Founder, Barefoot Media LLC
Music Biz 2019, May 5-8 at the JW Marriott Nashville.
Subscribe to BMI's The Weekly
Each week, Learn, Listen, Watch, Discover and Share with BMI! From must-see videos, to creative inspiration and dynamic playlists we're excited about, BMI's The Weekly is dedicated to delivering specially curated content designed for music creators and music fans alike!