Valparaiso Students Receive "Fantastick" Instruction
Students in the Creative Musical Theatre Composition class at Indiana's Valparaiso High School were treated to a one-day session of the BMI Lehman Engel Musical Theatre Workshop October 23, lead by Workshop steering committee member Frank Evans and facilitated by program designer Alice Gamble. The students, who actively write musical theatre pieces during the school year using the teachings of Workshop founder Lehman Engel, come to New York every other year to present their works to the Workshop's faculty.
The students also saw several theatre performances during their trip including Spring Awakening, In The Heights, and The Fantasticks, where they received talkbacks from lyricist and bookwriter, Tom Jones. This unique program offers students an opportunity to receive specialized instruction in theatre writing from a team of industry professionals.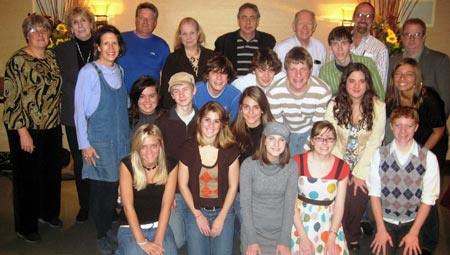 Front row, (l-r): Aaren Kracick, Carly Blane, Julia Chappell, Stephanie Truax, Erin Williams, Brendan Scannell. Second Row: Anna Anderson, Michael McBride, Alex Zappetillo, Andrew Wolverton, Patrick Bushbaum, Julianne Kowalski, Lindsay Babcock, Valparaiso Classroom Instructor: Back Row : Trip facilitator and program designer Alice L Gamble; BMI's Jean Banks; workshop steering committee member Janie Smulyan; musician John Shaffer, workshop steering committee member and librettist workshop moderator Nancy Golladay; workshop steering committee member and workshop special events coordinator Frank Evans; workshop steering committee member Richard Engquist; Valparaiso Music Instructor Daniel Pritchett; and workshop steering committee and co-moderator of second year workshop David Spencer