Toby Keith Discusses 'Beer for My Horses' at BMI
Toby Keith satisfied inquiring minds with the details surrounding his second full-length motion picture Beer for My Horses during a press conference Thursday, June 19 at BMI's Music Row offices. As Keith fielded questions, journalists took advantage of the thematically inspired beverages: namely, beer. Beer for My Horses hits theaters August 8, while Show Dog Nashville will release the soundtrack stacked with tunes by Keith, Willie Nelson, Trailer Choir, Ted Nugent, Gina Gershon, James McMurtry, Mac Davis, Mel Tillis, Carter's Chord, Rodney Carrington, David Allan Coe and Mica Roberts on August 5.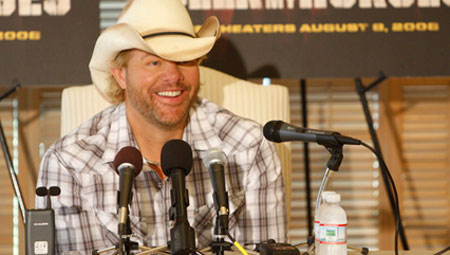 Toby Keith smiles as he fields questions from the press at BMI. (Photo by John Russell)
Three-time BMI Songwriter of the Year Toby Keith remains one of the most successful musical entertainers of his time. With nearly 35 million albums sold, he has been deluged with critical praise and peer approval in the form of awards and he's consistently been one of the top-drawing live performers in the nation. His current hit single, "She's A Hottie," is featured as the only newly-produced track on his latest two-disc release, Toby Keith's 35 Biggest Hits, which compiles the smash hits spanning his career.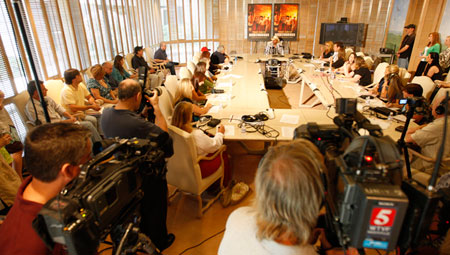 Local and national media outlets made themselves comfortable in BMI's conference room. (Photo by John Russell)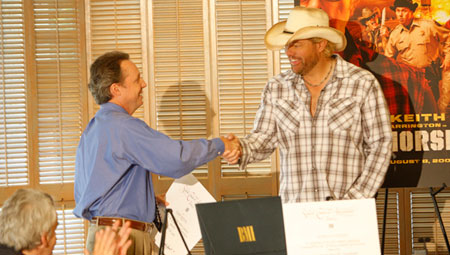 BMI's Jody Williams (left) presented a slew of Million-Air certificates to Toby Keith (right). (Photo by John Russell)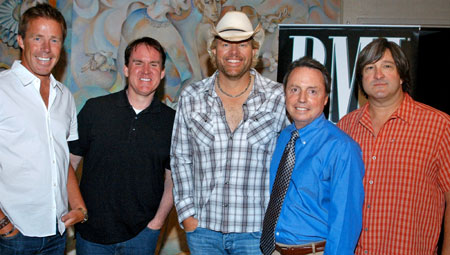 Pictured are (l to r): manager TK Kimbrell, CMT's Brian Phillips, Toby Keith, BMI's Jody Williams and Paradigm's Curt Motley. (Photo by Alan Mayor)