The Who Return with `Endless' Appeal
It started, most memorably and famously, with a stutter.
The title track of The Who's 1965 debut American album, The Who Sings My Generation, with such stuttered lyrics as "talkin' 'bout my g-generation," introduced one of the most important and revered bands of the 1960s — and one of the very few to still remain active some four decades later.
It's not exactly the same band, of course. Keith Moon, The Who's original drummer and the embodiment of the outrageous rock & roll fantasy lifestyle at its most extreme, succumbed to the fast life in 1978. Original bassist John Entwistle followed suit, though he lasted until 2002. But surviving vocalist Roger Daltrey and guitarist/vocalist/ songwriter Pete Townshend trudged on, performing the classic hits without a new studio album from the band since It's Hard.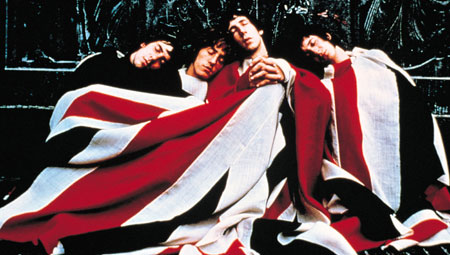 But that album, which yielded the minor pop hits "Athena" and "Eminence Front," came out in 1982 — over 24 years ago! So the fall 2006 release of Endless Wire was greatly anticipated and ecstatically received. Many critics felt that it was the best work by Townshend (who continued to issue solo albums since It's Hard) in years, if not decades.
There are key differences, to be sure. On the critical musicianship side, Zak Starkey, Ringo Starr's son and The Who's more-than-able touring drummer since 1996 (he actually received his first drum kit from his idol Moon), is present; equally estimable bassist Pino Palladino, who assumed the band's touring bass role after Entwistle's passing, is another seamless fill-in.
In the vocal department, Daltrey's bluster has aged well and is altogether fitting: Always the delivery vehicle for Townshend's lyrics, Daltrey has been supplied with songs showing the observations and reflections of a complex man now in his sixties. So while the album's opening track, "Fragments," may hark back to "Baba O'Riley" (from 1971's Who's Next) with its dainty keyboard play, it is not at all the "teenage wasteland" of that song's stirring verse. Nor is Endless Wire a mere throwback to earlier Who work in other aspects, though there are plenty more links with the past that are just as obvious, both musically and thematically.
Rather, Endless Wire is Pete Townshend at his most pensive and philosophical — and modern. In "Fragments," the artist who with his band helped define England's modernist (mod) youth subculture of the mid-1960s, experiments with composer Lawrence Ball in creating music by way of the "Method" — an interactive music composition tool — as envisioned in Townshend's three interlocking rock-opera projects: Lifehouse, which The Who released in 1972; Psychoderelict, Townshend's solo album from 1993; and The Boy Who Heard Music, his blog's novella written over the past two years.
In that novella, "Fragments" is a big hit song by the three-piece band that is the center of the story. By itself, it's an existential exploration of man's place in the universe, though it returns in shorter instrumental form in the middle of "Wire & Glass," a 10-song "mini-opera" tie-in with the novella that makes up the second half of Endless Wire (the album's title track is itself a song from this part of the program).
"Man in a Purple Dress" is simply Daltrey backed by Townshend's acoustic guitar, and in its mocking rejection of priestly hypocrisy, is one of three songs Townshend wrote after watching Mel Gibson's The Passion of the Christ. The frenetic rocker "Sound Round" evokes youth at life's crossroads, "We Got a Hit" is a cynical take on stardom, and "Black Widow's Eyes," with its "Pinball Wizard" power-chording, is an ironic love song situated in the horrific Beslan (Russia) school massacre.
Giving it a final context, then, Endless Wire, seems an extension of The Who's skeptical 1970 hit "The Seeker," in which Daltrey gives voice to Townshend's dismissal of Dylan, The Beatles and Timothy Leary, none of whom can provide life's big answers. Ever the spiritual wanderer, Townshend, who was heavily influenced by the Indian guru Meher Baba, perhaps tenders his own answer in "Mirror Door," the mirror, incidentally, being a key symbol in Tommy.
Citing such musical luminaries as Elvis Presley, Frank Sinatra and Johnny Cash, Daltrey's voice concludes, "Music makes me, makes me strong." As always, though, they are the words of Townshend, whose musical strengths have never been more pronounced as the creative genius behind The Who.