Technology Takes Center Stage at CISAC Copyright Summit
BMI President & CEO Del Bryant took part in a panel discussion at the recent CISAC-sponsored "The Copyright Summit - Creators First!" in Belgium, focusing on technology and its effect on the performing right in today's marketplace.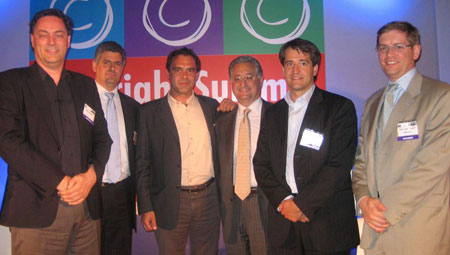 Pictured (l-r) are: panel moderator Gerd Leonhard, music and media futurist and author of "The End of Control" (Germany); Patrick Attallah, Managing Director, ISAN International Agency (Switzerland); FX Nuttall, Technology Intelligence Senior Consultant, CISAC; Del R. Bryant, President & CEO, BMI; Hervé Soursou, Director of Business Development, Mach (Denmark); and Rich Lappenbusch, Director, Entertainment and Devices Division, Microsoft (U.S.).
During the conference, Bryant noted that, "Technology is not the solution to the issues we face today — good business is the solution. Technology can facilitate good business… that is why we have embraced technology at BMI. We have approached technology positively.
"We were the first music company to have a website [September 1994], and the first copyright organization to license music on the web [April 1995].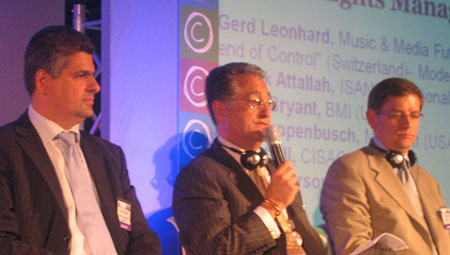 During the panel discussion Del Bryant spoke about embracing technology in order enhance business operations in the performing right arena.
"We have developed a rich suite of digital tools, not only for our staff to work smarter and quicker, but for our songwriters and publishers, and our licensees as well. We developed online tools to permit writers to sign up with BMI, register new works, view their royalty distributions and much more, to facilitate and manage their relationship with BMI. Likewise for our licensees, we developed a Digital Licensing Center for simple, fast, click-thru licensing online and online payment of license fees, to mention just a few examples.
"Technology has certainly enabled BMI to be a player in this digital age. Innovation is part of our culture; innovation in licensing as well as in the development of business systems. We have a long tradition of embracing new business models and new media … from FM radio to cable television to the Internet. We don't believe in forcing legacy licensing solutions on new business models… . Instead, we sit down with the business owner and learn his business. Most of our new media licenses are virtually co-written with the users, addressing both of our needs. I believe that if you're not constantly getting into new business, you're getting out of business."