Sundance 2012 Blog: Keaton Simons
I've always had a special connection to Sundance because my late grandpa David Rayfiel and festival founder Robert Redford were extremely close friends and associates. My grandpa David wrote The Way We Were, Three Days of the Condor, Out Of Africa, and many other films starring Redford. Admittedly this is where I switch from associating Sundance with film and start thinking of music and friends. The last time I attended Sundance was back in 2005 when I performed at the BMI Snowball along with Ben Gibbard and Vanessa Carlton. I was looking forward to seeing how things had grown and changed in the last 7 years. Minutes after arriving at LAX I ran into BMI's Doreen Ringer Ross, who offered me the opportunity to write this blog, which I am so grateful and honored to do!
My original impetus for attending Sundance 2012 was due to my step-dad, actor Eric Roberts, starring in a new IFC series Bullet in the Face, along with the brilliant Eddie Izzard. To say that we were flown out and put up in style would be a massive understatement. I haven't seen so much pampering since the MTV show My Super Sweet Sixteen! When we arrived in SLC all I had booked for myself besides a few massages, some winter sports activities, and a ton of schmooze dinners and gifting suites was an appearance on Park City TV. Sitting in the shuttle en route from airport to lodge, I quickly began to feel performance withdrawals. Knowing he had a bunch of awesome stuff planned, I texted my friend Jeremy Koff. He responded immediately and the well-oiled machine known as Koffeehouse™ (known for "Serving up LA's finest music"), leapt into action. By the time I slid the key card into the door they had me set up with four great shows! Among them, the Park City staple Flanagan's on Main, Fatali's Gallery, and the coveted Koffehouse Chateau (named "Top 10 Parties at Sundance 2011" by Film.com), along with my longtime friends Tyler Hilton, Collective Soul, and Makepeace Brothers.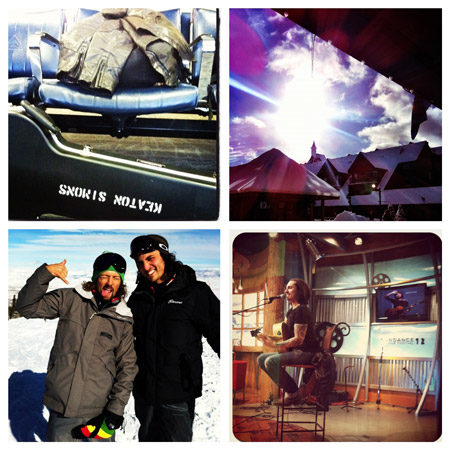 A definite highlight for me was meeting up with my friend Jason Mraz at the Burton gifting tents. While my girlfriend Laura Goldfarb (owner of Red Boot Publicity) braved the magic carpet for her first time on a snowboard, Jason and I carved up the mountain together. According to all the locals and pros it was by far the best day of the entire season thus far, with bright blue skies and 20" of fresh powder. Jason was accompanied by a modest entourage of badass snowboarders. A lifelong skier myself, I was representing the old school and, if I may be so bold, shredding right alongside them.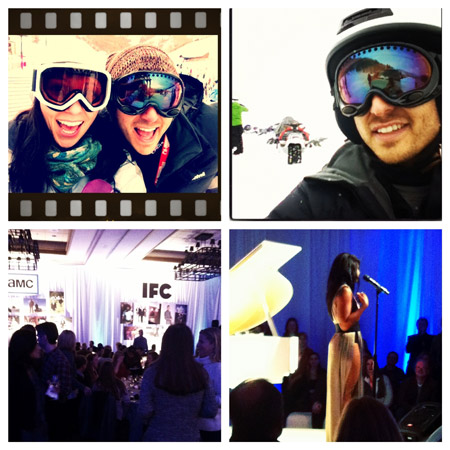 Another highlight and extraordinary example of the spirit of Sundance was our second schmooze dinner put on by IFC, AMC, Sundance Channel, and We TV. After an amazing meal, a curtain opened and we were instructed to enter the next room for dessert and a very special guest entertainer. The room was decorated to the hilt with a gleaming white piano on a giant square platform, and glass orbs filled with delectable confections hanging from the ceiling. I felt like I was in the middle of an adult Willy Wonka's chocolate factory. The lights dimmed and none other than Toni Braxton took the stage. She performed a medley of her hits and worked the room like the pro she is. It was a great way to end a magnificent day.
On the plane back to Los Angeles I found myself considering Sundance as a magnificent ballet. A balancing act of decadence and hedonism. A winter wonderland filled with people enjoying themselves to exhaustion. At its core, though, it's about art and artists. I was also feeling overwhelmed with gratitude for the unsung heroes of Sundance, the people behind the scenes. These folks somehow miraculously make each and every one of the thousands of people in attendance feel like they are the number one priority. To those miracle makers of Sundance, thank you for making this one of the most incredible experiences of my life. See ya next year!    –Keaton Simons