"Stand By Me" to Receive Towering Song Award at 2012 Songwriters Hall of Fame Dinner
The Songwriters Hall of Fame will bestow the prestigious Towering Song Award on timeless composition "Stand by Me" at the organization's 43rd Annual Induction and Awards Dinner, slated for Thursday, June 14 at the Marriott Marquis Hotel in New York City.
Written by Jerry Leiber, Mike Stoller and Ben E. King, "Stand by Me" has earned more than 11.6 million performances and ranks as one of the top five most-performed songs from BMI's catalog during the 20th century. Recorded by King and produced by Leiber and Stoller, the song first topped charts in 1961 and has since been covered by an incredibly diverse list of more than 400 artists, including Earl Grant, Spyder Turner, David & Jimmy Ruffin, John Lennon, Mickey Gilley, Maurice White, 4 The Cause, and Prince Royce. When Sean Kingston's "Beautiful Girls," which samples the song, reached No. 1, "Stand by Me" achieved a new record of the most chart trips of any one song on the Billboard Hot 100 in history. In 1986, "Stand by Me" was immortalized in film in the major motion picture of the same name. "Stand By Me" also received the Grammy Hall of Fame Award and resides on the top of Rolling Stone's "500 Greatest Songs of All Time" and the RIAA's "Songs of the Century."
The Songwriters Hall of Fame inducted legendary songwriting team Leiber and Stoller in 1985.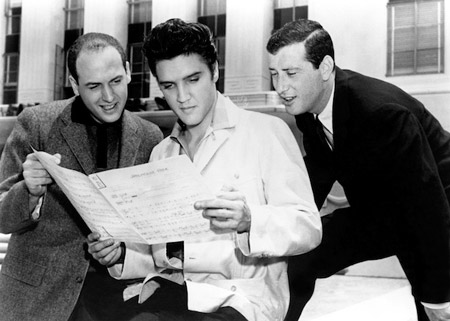 Mike Stoller, Elvis Presley and Jerry Leiber pose for a photo in 1957.
The Towering Song Award is presented annually to "the creators of an individual song that has influenced our culture in a unique way over many years." The 43rd Annual Songwriters Hall of Fame Induction and Awards Dinner will also officially welcome prolific BMI songwriter Jim Steinman into the Hall of Fame, while Bette Midler will receive the Sammy Cahn Lifetime Achievement Award.
Tickets for the Songwriters Hall of Fame event begin at $1000 each, and are available through Buckley Hall Events, (212) 573-6933. Net proceeds from the event will go toward the Songwriters Hall of Fame programs.
For more information, visit http://songwritershalloffame.org.