Remembering Robert Sherman: 1925-2012
Legendary songwriter and composer Robert B. Sherman has died. He was 86.
Mr. Sherman built a uniquely and dazzlingly successful career, composing hit singles, television themes, movie soundtracks for Disney and others, Broadway scores and more.
Sherman possessed an unmatched love and mastery of language, which is especially visible in his Mary Poppins' classics "Supercalifragilisticexpialidocious" and "Chim Chim Cherree." Along with his brother Richard, Sherman penned unforgettable music for iconic film and Broadway productions including Mary Poppins, The Jungle Book, Chitty Chitty Bang Bang, Charlotte's Web, Winnie the Pooh, The Sword and the Stone, The Parent Trap, Over Here!, The Magic of Lassie, The Aristocats and so many more, as well as "It's a Small World After All," which is considered the most-played, most-translated song on earth.
In a career spanning 50 years, the Sherman brothers collected innumerable accolades, including two Academy Awards, and nine nominations, two Grammy Awards, 23 gold and platinum albums, induction into the Songwriters Hall of Fame and a star on the Hollywood Walk of Fame.
In 2006, Sherman partnered with the BMI Foundation to establish the Robert Sherman Scholarship, which is presented each year to a student studying musical theatre.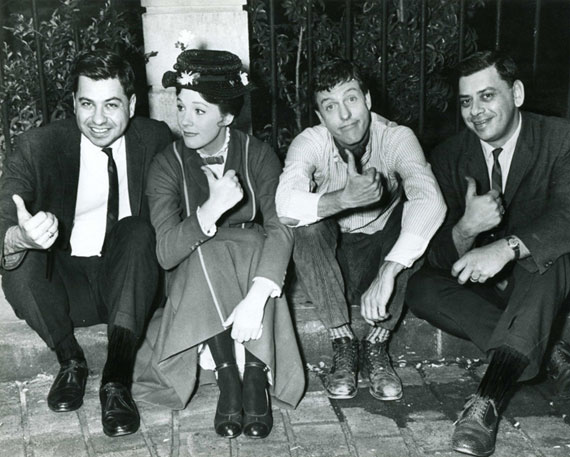 The Sherman Brothers smile for the camera with Mary Poppins' Julie Andrews and Dick Van Dyke.