Recording Academy Honors Bruce Lundvall
Legendary music industry executive Bruce Lundvall was honored at a reception hosted by the New York chapter of the Recording Academy on June 20 at the Jazz Standard in New York City.
Lundvall was hailed as someone who "in his long career … rose above label, above genre" and whose "perspective rose even beyond national borders and culture," by BMI Vice President Robbin Ahrold, who went on to note that "this unbelievably erudite and refined gentleman has a magic that touches all of us who are fortunate enough to have worked with him… . He made us all want to share his vision, and his passion for what the music and our industry could be at their very best."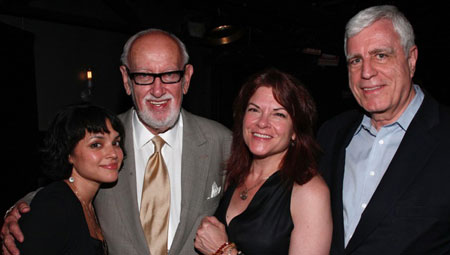 Bruce Lundvall receives congratulations from Norah Jones, Rosanne Cash and BMI's Robbin Ahrold.
For almost 50 years, Lundvall has elevated jazz music. From his stewardship of the Blue Note Label Group to his early career with Columbia Records and all stops in between, his tireless quest for greatness has yielded masterpieces by BMI songwriters, composers and artists including Willie Nelson, Herbie Hancock, Anita Baker, Natalie Cole, Norah Jones, and more.