Prom Queen Taylor Swift Celebrates in Nashville
BMI singer/songwriter Taylor Swift was unable to attend her real prom, so naturally, she staged her own Monday, May 12, and invited Nashville friends to join in the fun. BMI, Big Machine and Sony ATV sponsored multi-platinum / no. 1 single party, while industry heavy weights, musicians and giddy teenagers embraced the prom theme. Attendees donned snazzy contemporary and vintage tuxedos, fairy tale dresses and even comically nostalgic chaperone duds. The prom queen had much to celebrate: Her self-penned hit "Our Song" rested atop the charts comfortably for six weeks, while her debut album reached triple-platinum status.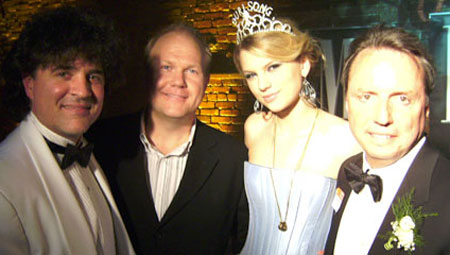 Pictured at Taylor Swift's Triple Platinum Prom party (L-R): Big Machine Pres. Scott Borchetta, Sony/ATV Pres./CEO Troy Tomlinson, Taylor Swift and BMI VP Writer-Publisher Relations Jody Williams.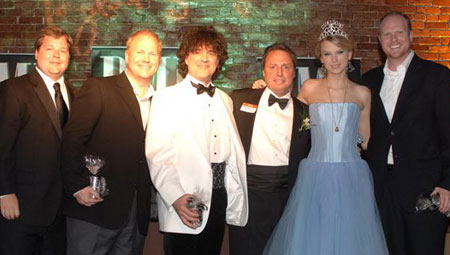 Pictured at the party are (l to r): BMI's Bradley Collins, Sony ATV's Troy Tomlinson, Big Machine's Scott Borchetta, BMI's Jody Williams, Taylor Swift and producer Nathan Chapman.
Photos by Brooke Kelly for Krista Lee Photography