Paul Simon Honored by BMI Board of Directors at NAB Convention
Kix Brooks, Kenneth "Babyface" Edmonds and Kara Dioguardi also recognized for their songwriting prowess at dinner
The BMI Board of Directors honored BMI legend Paul Simon for his prolific songwriting career at its annual dinner, held Tuesday, April 12 during the National Association of Broadcasters (NAB) convention in Las Vegas. BMI Board Chair Jack Sander and BMI President & CEO Del Bryant presented a special citation to Simon.
The extensive songwriting contributions of BMI hit-makers Kenneth "Babyface" Edmonds, Kara DioGuardi, and Kix Brooks were also celebrated at the event.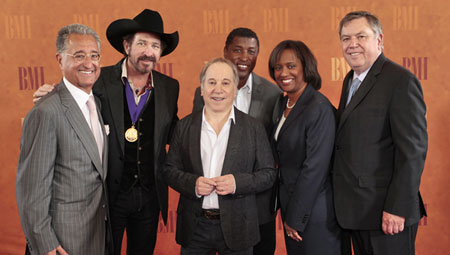 BMI President & CEO Del Bryant; BMI songwriters Kix Brooks, Paul Simon and Kenneth "Babyface" Edmonds; BMI Board Vice Chair Susan Davenport Austin; and BMI Board Chair Jack Sander pose for a photo at the 2011 BMI Board of Directors dinner April 12 in Las Vegas.
It is impossible to quantify artistic greatness. However, Paul Simon's deep BMI catalog comes regally close: His contributions to BMI's repertoire account for 98,671,956 US performances through the third quarter of 2010. Based on an average song length of three minutes, this amounts to over 4,933,500 hours—or 563 years—of continuous airplay.
Such cultural ubiquity and undiminished relevance is almost unparalleled.
Crowned a BMI Icon in 2005, Simon has earned 37 BMI Pop Awards, one Country Award and one Urban Award. He was named BMI Pop Songwriter of the Year in 1972 and has amassed eight BMI Million-Air Award songs totaling more than 22 million performances (1 at over 9 million, 1 at over 8 million, 1 at over 7 million, 1 at over 6 million, 4 at over 4 million, 6 at over 3 million, 5 at over 2 million and 3 at over 1 million).
Photos by Randall Michelson