Pablo Gomez Trujillo Named BMI Film Scoring Scholarship Recipient at Berklee
Composer Pablo Gomez Trujillo was named the 2011 BMI Film Scoring Scholarship recipient at the annual BMI Day at Berklee College of Music. Trujillo, a film scoring major, received the scholarship at a presentation at Berklee by BMI composer Alan Silvestri, in whose name this year's scholarship is given; Doreen Ringer-Ross, BMI Vice President, Film/TV Relations; and Berklee Film Scoring Department Chair Dan Carlin also co-presented the award.
The BMI Film Scoring Scholarship is a yearly tuition scholarship awarded on the basis of compositional maturity and talent, as well as financial need. Each year, the scholarship is given in the name of a noted BMI composer. Silvestri, this year's honored composer, taught a master class on film scoring as part of the ceremony.
Pablo Gómez Trujillo was born and raised in Málaga, Spain, and began studying music at the age of seven. He earned a professional certificate in piano, and, later, graduated with honors in composition at the Superior Conservatory of Music of Málaga, where some of his chamber pieces and orchestral works were premiered. He also studied orchestral conducting and contemporary composition, and wrote music for several short films, commercials and theatrical plays. Recently, Trujillo has been working as a composer and arranger with the Málaga Symphony Orchestra, and as a copyist/arranger with the Málaga Philharmonic Orchestra. He is a seventh semester student at Berklee, pursuing a Film Scoring Major and a Video Game Music Minor. He is moving to Los Angeles in January to fulfill his aspirations for a film scoring career.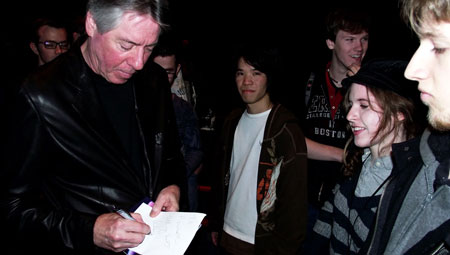 Composer Alan Silvestri signs autographs for Berklee Film Music students at the 2011 presentation of the BMI Berklee Film Scoring Scholarship during BMI Day at Berklee. (Photo: Mark Small)
Alan Silvestri received an Academy Award nomination and won a Grammy for the song "Believe," written for Robert Zemeckis's Polar Express. He has earned nominations from both the Academy and the Golden Globes for Best Score for Zemeckis's Forrest Gump, and also won a Grammy for the soundtrack album for the film The Body Guard. In addition to Polar Express and Forrest Gump, Silvestri has scored many other motion pictures for Zemeckis, including Cast Away, What Lies Beneath, Contact, Romancing the Stone, all three Back to the Future films, Who Framed Roger Rabbit?, and Death Becomes Her.
"This scholarship continues our mission of supporting young and emerging composers at the college level," said BMI's Doreen Ringer Ross. "We support Berklee's commitment to excellence in music and film scoring and their determination to further the growth of talented, trained, and educated composers."