Navigating the Music World: BMI & Jason Blume Help Steer Aspiring Songwriters in the Right Direction
Thousands of songwriters migrate to Nashville each year, confident and curious about what they have to offer Music Row—and what Music Row has to offer them. The overwhelming influx of talent often finds the doors to their goals shut tight, but for the past nine years, BMI and hit songwriter Jason Blume have partnered to give aspiring artists and tomorrow's hit writers an open door.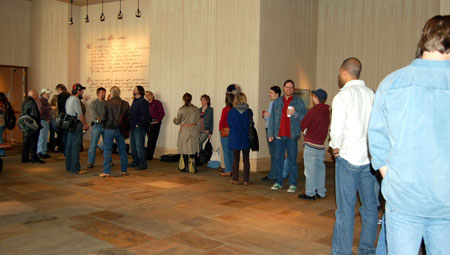 Workshop attendees form a line outside BMI Nashville's Writer/Publisher department on Tuesday, April 10.
Jason Blume's Songwriter Workshop, held each month at BMI's Nashville office, offers alternating formats designed both to encourage and inform aspiring songwriters. Its moderator and namesake, Jason Blume, strives to create a nurturing environment, sharing his own triumphs, advice and struggles with about 50 participants. "My own journey to success was so dramatic that I think it serves a powerful inspiration for writers who face the rejection and frustration that is typically part of the journey," says Blume, who has penned tunes for a diverse smattering of contemporary music stars including Colin Raye, the Oak Ridge Boys, Britney Spears, Jesse McCartney and pop-flamenco trendsetters the Gipsy Kings. Blume is also a best-selling author, penning the three books 6 Steps to Songwriting Success: The Comprehensive Guide to Writing and Marketing Hit Songs, Inside Songwriting and most recently, This Business of Songwriting—all published by Billboard books. He also produced the acclaimed instructional CD series Writing Hit Melodies with Jason Blume and Writing Hit Lyrics with Jason Blume.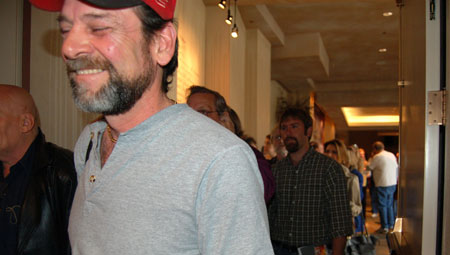 It's finally time to get started, so the songwriters file in to take their seats.
"I lecture for approximately 90 minutes," he explains. "Following the lecture, on alternating months, each participant has an opportunity to pitch one song to a guest publisher. Countless publisher/writer relationships have begun as a result of a publisher taking a copy of one of those songs. The other months, I do a constructive critique of one song from each of the participants."

Jason Blume kicks off the April edition of his workshop.
The critiques and face time with publishers has reaped rich dividends for several devout attendees. Wood River, Illinois native Charlie Brown began attending the BMI workshops soon after making the move to Nashville in 2000. On May 1, rising country music favorite Blake Shelton will release his new album, featuring a Charlie Brown-penned song called "What I Wouldn't Give." May 1 also happens to be Charlie's birthday. "I've been to many Jason Blume workshops here at BMI," says Brown. "Jason has been my mentor from the beginning of my career. I went from nothing going on, to talking publishing deals with many top companies in town. My first cut by a great artist, released on my birthday—it's a great feeling."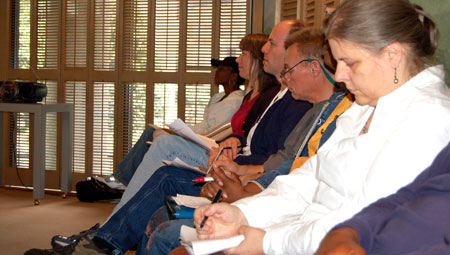 Participants listen closely, taking notes and posing questions as Blume guides them through the course.
Songwriter Johnny Chase also applied Blume's lessons to his real world goals. "I heard Jason Blume speak in LA last November and he mentioned that he gives a free workshop the 2nd Tuesday of every month at BMI in Nashville," shares Chase. "He [Blume] is a very motivating speaker, so I started attending in January. That particular session was on writing lyrics, and he covered many aspects of the music business and how to get your music to the people that are looking for it as well." Today, Johnny's "By Your Side" has been used twice on the MTV hit show NEXT, while his song "Fear to Fall" will be included on HBO's Entourage Season 3 DVD. "I used the info I learned at the class and also purchased all of his books and learning CD's and dove in head first," says Chase. "Thanks to Jason Blume and the BMI workshop, I have a direction to head with my music and have already started the year off with a bang!"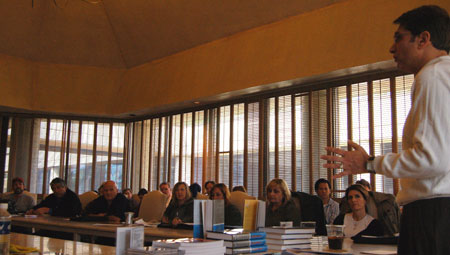 Blume often shares personal stories of challenges he faced early in his career.
To hear samples of Charlie Brown and Johnny Chase's music, please visit myspace.com/charliebrownsmusic and myspace.com/johnnychase1 . For more information on Jason Blume, please visit jasonblume.com.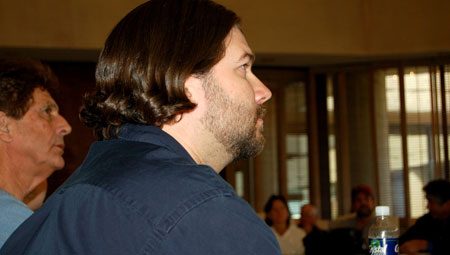 Up-and-coming songwriter and bourgeoning workshop success story Johnny Chase listens intently.
Held each month from 12:30 to 4:30pm in the BMI Nashville office, the Songwriters Workshop with Jason Blume is open to all songwriters who are serious about and committed to successful commercial songwriting. Registration will now be conducted the same day of each workshop, with no prior registration necessary. 50 participants will be admitted each session, with registration beginning promptly at 12 p.m. in BMI's main lobby on the day of the workshop. From noon until 12:30 p.m., numbers will be handed out on a first-come, first-served basis, until all 50 seats are filled. Email NashvilleWorkshops@bmi.com with any questions regarding the workshop.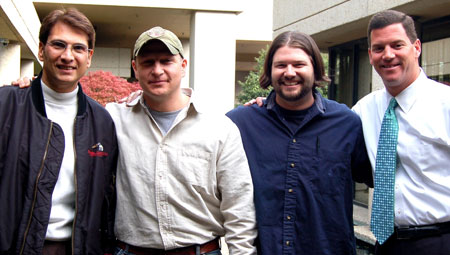 After the workshop, Blume chats individually with participants. April 10, Charlie Brown stopped by to also give aspiring artists a little encouragement. Pictured are (l to r): Jason Blume, songwriters Charlie Brown and Johnny Chase and BMI's Mark Mason.
Photos by Elisabeth Dawson