'Nashville Music & More' Makes Winning Debut at BMI
BMI Nashville hosted the official launch party for WSMV Channel 4's new show, "Nashville Music & More," on Wednesday, Jan. 17 at the organization's Music Row offices. "NM&M" will cover the city's bustling music industry, from features on the songwriters behind the hits to profiles on some of contemporary music's biggest stars. A weekly segment will also take viewers to country music's home, the Grand Ole Opry, for glimpses of performances and the characters that continue to endear the Opry to millions of fans.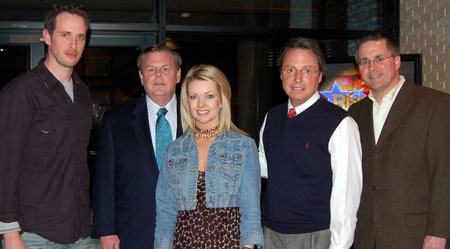 The "Nashville Music & More" crew celebrated the large turnout for the show's preview. Pictured are (l-r): NM&M editor and producer Steven Price, Elden Hale, Jr., Senior Vice President of Meredith Broadcasting Group and General Manager of WSMV-TV, NM&M host Jennifer Vickery, BMI's Jody Williams and the Grand Ole Opry's Pete Fisher.
Photo by Elisabeth Dawson
As BMI's Jody Williams introduced WSMV's Elden Hale, he expressed the sincere interest of BMI's staff in Nashville's newest show. "All of us here at BMI are eager to support folks like the 'Nashville Music & More' crew who will shine a spotlight on those vital musical characters that are frequently only known behind the scenes," Williams said.
"Nashville Music & More" premieres Saturday, Jan. 27 at 6:30 p.m. on WSMV-TV Channel 4.
Belmont University's Harry Chapman and the Muzik Mafia's Cory Gierman attended the reception to catch a sneak peek of Nashville's newest weekly show devoted entirely to the town's rich music scene.
Photo by Lindsey Bunt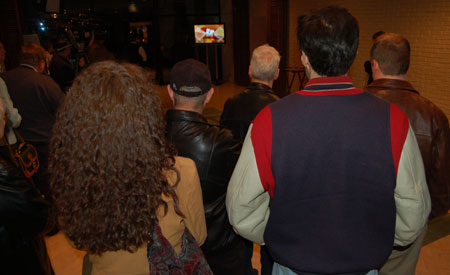 Three flat screens in various corners of the room provided easy viewing of a NM&M sample for guests.
Photo by Lindsey Bunt