Nashville Newcomer Morgan Evans Takes Off
The Australian native preps for his highly-anticipated Warner debut this summer
Nashville is a fabled destination for many aspiring singer-songwriters, and those who've made the trek will tell you that it's rarely an easy road to get there. But if there's a prize for the most frequent flyer miles earned on the path to Music City, it might go to Morgan Evans. Before moving to Nashville three years ago, the Newcastle-born artist released multiple records and toured extensively in his home country, where he opened for the likes of Alan Jackson and Taylor Swift. He'd frequently travel from Australia to Nashville to write — one year, he made that 20-hour flight an astounding 18 times — prompting his decision to make the big move.
Since, Evans has kept busy, writing and collaborating with other artists and perfecting his own live solo show, in which he serves as his own band by masterfully manning a loop pedal. He found a kindred spirit in producer Chris DeStefano, who produced his debut album for Warner Records, which will be released later this summer. His first U.S. single, "Kiss Somebody," earned him praise from Billboard and Rolling Stone, and he's been singled out as an artist to watch by Pandora, Amazon Music, CMT and SiriusXM.
BMI caught up with Evans, who is on the road with Chris Young and Kane Brown. The affable artist talked about the six albums that shaped him as a child, why he started writing songs from a very young age, and how his wife Kelsea Ballerini helped him open up to the rest of the world.
When did you first realize that you wanted to be a musician?
I think it was probably when I was 13. I played music from when I was young; I had encouraging parents. I played piano from when I was five, I played in the school band — I played a baritone horn, or a euphonium — and then when I was 13 I started playing guitar and I thought, "I'm going to do this forever." I didn't know that was a thing you could do as a job. At that point, I just knew I could play an instrument.
Every band I played in from 13 until when I moved over to the U.S. three years ago, I played with my brother. He played bass — he's a super talented musician and singer. There's something about sibling harmonies that I think is super cool, and it was an awesome way to share that experience with your brother. I'm trying to convince him to move over, so we'll see. He's in Australia. He still plays music, but he has a proper, normal job [laughs].
When did you start writing songs?


Straightaway! It's funny, people often ask how you get into songwriting, and I always thought that if you wanted to sing a song, you had to write one [laughs]. Before I got my first guitar, my parents borrowed a guitar and they said, "If you teach yourself for three months and prove that you will be committed to this instrument, we will get you one for your birthday." So I got this guitar and I got a chord book, and my first four chords were E, G, D, and A. And I wrote a song with those chords. I later found out that that song sounded a lot like "Alive" by Pearl Jam, but I was like, "Look, I can play guitar, and I played a song that I made up rather than a song I learned from the book!" I have no idea why I thought that way, but that's how it happened.
So that's when I started making up my own music, but I would argue it wasn't until I started going to Nashville that I really stared thinking of songwriting in the way that I think about it now. I feel like every day I spend in Nashville, I learn more about what songwriting is.
It's like a constant master class in Nashville.
Absolutely.
You grew up in Newcastle and you traveled back and forth a lot before moving here three years ago. Was that hard?
I just renewed my three-year working visa, so it's been official for just over three years. Before that, I would come back and forth on short visas. I would come and write two or three songs a day for three months, and then I'd go home. I'd listen to them all on the plane on the way home and see if anything stuck out. I always say this about Nashville, but it's both intimidating and inspiring in the same day, you know? But something about it just kept me coming back. And being able to live there now, I just love it. It's still intimidating and inspiring every day, but I really do love it.
It always inspires you to try harder.
Absolutely, and that's just the way of the world — there's always someone who is better or different or doing something cool — but it's funny, because in the world of songwriting, most of those people are in Nashville. So it's right there [laughs]. I consider myself really lucky to call my group of friends some of my favorite songwriters in the world. There's not really any other town where you can do that.
So what convinced you to finally make that move?
There was one year, four years ago…so I put out music in Australia for quite a few years, when I was coming back and forth, I became more and more obsessed with Nashville and writing songs. I knew that was the writing community I wanted to be part of. I still had a year of commitments back in Australia — festivals and TV stuff here and there — things I had to be back for. So, one year I went back and forth nine times in one year [18 flights total], so that's almost a month on an airplane in a year. I thought, "I can't do this anymore. I'm going to reduce my life expectancy." [Laughs]. So, we started working on a visa, and then at the end of that year, made the move official.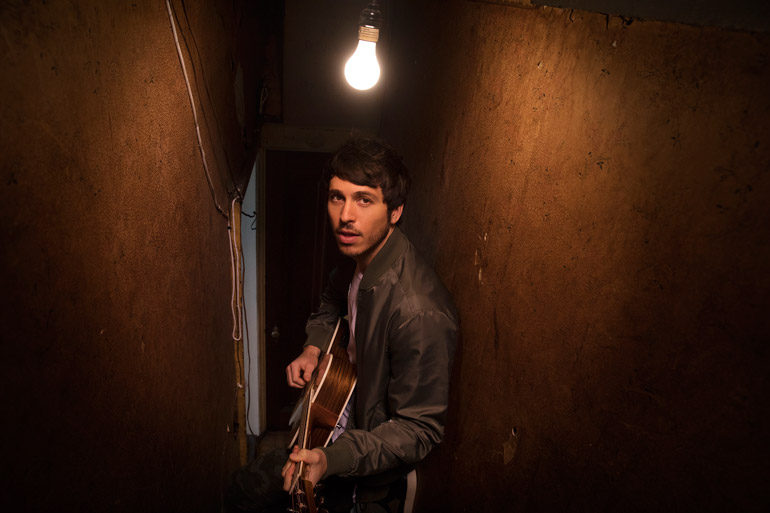 You've played in bands and currently perform solo with a loop pedal. Was there a moment where you just felt like you had figured out what you were supposed to be doing, artistically?
The band that I had in Australia was my ultimate band — it was my brother and two other guys who became two of my best friends — and we toured together for so long. But when you're in a band, there's things you have to talk about; you just know what's about to happen. When I moved over, those guys didn't come with me because they have families and lives. I tried to replace them with great players around Nashville — some of the best players in the world live in Nashville, too — but that just never worked for me. I would always be replacing a drummer, or rehearsing with a new guitar player, and it just wasn't right.
I bought the loop pedal to write songs on, to be honest, because I didn't know that many people in Nashville at that point. If you kind of jam with yourself you can make your own beats. After a few times throwing together bands that never felt quite like a band, I started to take that pedal out and play shows with it.
Performing with that pedal feels a lot like a conversation to me. When I go to see my favorite artists, I get there early and see the support act, and sometimes if it's too loud or noisy, it feels like they're playing music at you. With this pedal, I can have a conversation with the audience and really introduce myself as opposed to just playing music. So it started like that, and I just love it now. It's such a fun way — and such a free way — to perform. There's no rules, I never write a set list, I can extend any section of any song or I can end any song early.
You mentioned how Nashville can be both an inspiring and intimidating place, artistically. Tell me a little about the co-writing process — do you approach it differently when you're the artist and the songwriter in the room?
I talked to Lee Brice about this, actually, two years ago, and it really helped with my perspective. I asked him a similar question, and he was like, "Man, I'm always writing songs for me." That made so much sense to me — he said how I feel in a really simple way, and that's what makes him a great songwriter [laughs].
I'm learning every day about that kind of thing, but as an artist in the room, especially in Nashville, I feel like it's your job to bring the idea or the feeling, you know? Those guys who sit in studios every day and write songs, they're in better songwriting form than you are when you get in the room, so it's up to you to bring in what you want to say or how you want to construct a feeling, and have the other people in the room help achieve that goal.
People talk about having your tribe or however you want to say it, and for me that was a guy named Chris DeStefano. When I met him it all started to click, just the way he started building tracks and sounds, and the people that he introduced me to after I met him about two years ago. We wrote "Kiss Somebody" and then built the rest of the record on top of that.
You worked closely with Chris on the upcoming album. How did you two first meet?
We actually met at a writing camp in Sydney, Australia, which is pretty funny! I'd already moved to Nashville — this was two years ago, and I'd been living in Nashville for a year — but I'd gone home to Australia for Christmas. We had organized a few shows around that and I got a call from my label down there saying, "There's this songwriting thing going on, do you want to go?" And I went and the first day I teamed up with Chris. Obviously, I knew who Chris was, although I'd never met him before. So, I wrote with Chris on the first day, and he and Ashley Gorley had gone down there together, and I got teamed up with Ashley — and obviously I knew who he was as well — and then there was a bit of a party and we all ended up in a studio having a beer and talking about making a record together. That's how it all started.
Funny how you guys all ended up meeting in Australia, and then working together back in Nashville.
It's so funny — we always talk about it when we end up on stage together. I consider those two guys two of my really great friends. It's funny how life in music goes.
Right now you're on the road with Chris Young and Kane Brown, and you've toured with Taylor Swift and Alan Jackson. What do you learn when you're with another artist on the road?
It's crazy — the Taylor and Alan Jackson tours were in Australia, and the Alan Jackson tour was the first time I got to play all the big arenas in Australia, so that was an epic experience. And he's a legend. I think on this tour I'm learning more than ever because it's my first real major tour of the U.S., and as you know, this country is one country, but it's also 50 different ones at the same time. So it's interesting to go to all of these different places, and to discover the country music fans and the people there. Obviously, Chris Young has been doing this a long time and has a lot of success, and Kane is crushing it at the moment. It's been fun getting to know them.
Tell us a little about some of your musical influences — what did you listen to when you were growing up in Australia?
I always go back to the six key records that I grew up on — they're the ones that you have to listen to before you can make your own choices, you know? [Laughs.] You''re just looking through your parents' records. The country ones were Garth Brooks The Hits, a Nitty Gritty Dirt Band compilation called Twenty Years of Dirt, a Glen Campbell greatest hits album — I can't remember what the name of it was, but it had a green cover and a picture of his head — an Eagles best of as well, a Creedence Clearwater Revival record, and Led Zeppelin IV. Going from rock to country never crossed my mind — it was just the foundation for what I understood as music, and that was what I listened to before I was 13 and I could go and mow the lawn and buy records at the end of the week.
You recently married fellow rising country star Kelsea Ballerini. Do you ever write or perform together?
We have performed together quite a few times, which is really fun. The first song I wrote for her is going to be on the record. We haven't written together because when we're at home, we're in our home space. But at the same time, we do play each other everything we write. It's awesome to have someone like that in your life, who is so close, and who has an opinion that you really respect.
So what is the balance, with both of you being artists? How much of your personal life do you bring into your songwriting?
It's funny … I used to be super private. I never talked about anything private before Kelsea, but when she does an interview, she just says everything [laughs]. But it's actually very liberating — it's freeing when you don't have to hold back things or say, "No comment," or keep secrets or anything like that. You can just be honest about the situation and answer questions. She's obviously just great at communicating with people, and it's made life a lot easier. So yes, we write about everything and talk about everything, but at the same time we appreciate those moments where we get to shut the front door and leave the world behind for a little bit as well.
How did you start working with BMI, and how have they fostered your career over the years?
I did the Key West Songwriters' Fest four years ago, and that was a cool way for a guy who's new in town to get to meet a bunch of people from Nashville, but in a more relaxed environment. And also, a good way to discover things — there's people you've heard of, but never seen. I remember seeing Jeffrey Steele play down there for the first time, and I was like, "Wow." So experiences like that are very cool. After that, it became my number-one goal to write with him, and I ended up getting to do that for a record that we put out in Australia, so that was super cool.