Music Row Cheers 'Waitin' on a Woman' and 'I'm Still a Guy'
BMI welcomed members of Music Row's community to the Musicians Hall of Fame Monday, October 20 for a two-pronged celebration of Brad Paisley's latest Frank Rogers-produced chart-toppers: "I'm Still a Guy," co-written by BMI songwriter Lee Thomas Miller, Kelley Lovelace, and Paisley and published by Didn't Have to Be Music, EMI Music Publishing, Noah's Little Boat Music and Sea Gayle Music and "Waitin' on a Woman," co-penned by BMI songwriter Varble and Don Sampson and also published by EMI Music Publishing and Sea Gayle Music, along with Warner-Tamerlane Publishing Company.
"Waitin' on a Woman" became Paisley's eighth consecutive no. 1 single, officially making the reigning CMA Male Vocalist of the Year the purveyor of more consecutive top singles than any other country artist in the 18-year history of Nielsen BDS-monitored airplay. As consistent as he is potent, Paisley has earned a total of 12 chart-topping songs throughout his career.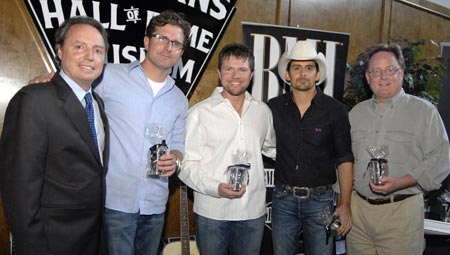 The creative hive behind "I'm Still a Guy" gathered for a photo. Pictured are (l-r): BMI's Jody Williams; Sea Gayle Music Managing Partner Chris Dubois; BMI co-writer Lee Thomas Miller; Brad Paisley; and EMI Music Publishing Executive Vice President and General Manager, Nashville Gary Overton.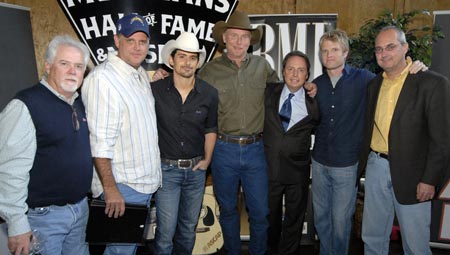 The "Waitin' on a Woman" team also triumphantly grinned for the camera. Pictured are (l-r): longtime Brad Paisley manager Fitzgerald Hartley's Bill Simmons; co-writer Don Sampson; Brad Paisley; BMI co-writer Wynn Varble; and BMI's Jody Williams; with Warner-Tamerlane Publishing Company Vice President, A&R Kos Weaver and Warner-Tamerlane Publishing Company Senior Vice President Dale Bobo. (Photos by Kay Williams)