Michael John LaChiusa Tackles 'Giant'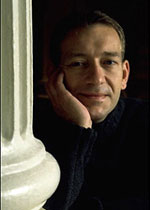 Giant. Like its name, the story and cultural waves left in its wake are larger than life. A best-selling novel by Edna Ferber, the epic tale became a blockbuster film directed by George Stevens, starring Elizabeth Taylor, Rock Hudson and James Dean. Now, audiences will experience Giant as a musical from BMI composer, lyricist and librettist Michael John LaChiusa.
LaChiusa acknowledges the challenges presented by the project, musing, "25 years of a complicated marriage of a Texas ranching scion and a Virginia belle, the yet-to-be-resolved issues of Mexican-Americans relations, the political and economic implications of the oil industry and Texas politics. How the heck does one make a musical out of all these things?"
Initially, LaChiusa was skeptical about writing the show when he was first approached by Julie Gilbert, Ferber's great-niece and Literary Executor. When he realized the show's scope needed three acts rather than the usual two act format, he enlisted the help of playwright Sybille Pearson, his teaching colleague at NYU who also penned the libretto for Broadway musical Baby.
The resulting collaboration recently concluded its triumphant initial tryout at Virginia's Signature Theatre, and there are plans for another regional production of the musical as it continues on its promising journey to Broadway.
LaChiusa joined the BMI Musical Theatre Workshop during Lehman Engel's final year, and he describes the experience as "truly one of the most remarkable things in my life." In addition to Engel, LaChuisa credits Edward Kleban, Maury Yeston, Richard Engquist and Ellen Fitzhugh for their nurturing and encouragement.
In the case of Fitzhugh, a mentor became a collaborator, and the two are currently expanding their one-act musical, Tres NIños—seen at the Zipper Factory last season—into a full length work entitled Los Otros. LaChiusa is also working more with Pearson: They are in the midst of completing a commission from the Metropolitan Opera which he describes as "'Scheherazade' set in Argentina." They anticipate a workshop/sing-through within a year.
In addition to teaching at NYU, LaChiusa has garnered Obie awards for his musicals First Lady Suite and Hello Again and is a five-time Tony nominee for his Broadway musicals The Wild Party and Marie Christine, as well as his contributions to Chronicle of a Death Foretold.
In the classroom, he encourages his NYU Masters' program students to apply for the BMI Workshop as an invaluable last step before entering the real world of musical theatre. "The Workshop is where they learn to polish," he explains, "and get cojones and guts."