Editorial: Managing Expectations in the Digital Age
In January, BMI rolled out BMI Live, an open, transparent, online program designed to allow performing songwriters to be paid for performances of their own works in small venues. This new payment system is yet another example of BMI's long-standing tradition of creating programs that meet the needs of our songwriters at the earliest stages of their careers while laying the groundwork for their future growth.
If there has been one overriding constant in the 25 years I've spent working in performing rights, it's been the need to meet — and, whenever possible, exceed — the rising expectations of our clients. The sheer volume of data we collect and process, coupled with the digital-age expectation of nearly instantaneous response to every query, has created an environment where workflows are continually adjusted and upgraded.
Our membership base, which numbers more than 475,000 songwriters, composers and music publishers, is growing by more than 3,000 per month, and with those new writers and publishers come new musical works, which are arriving at a rate of more than 40,000 per month and will total almost 500,000 for 2010. Twenty-five years ago, we processed a total of 50,000 for the entire year.
In the late 1980s, there were three basic sources for media-based performing right data and income: radio, three television networks (ABC, CBS and NBC) and three cable stations (HBO, Cinemax and Showtime). Back then, BMI processed about 12,000 television and cable cue sheets per year; in 2010 alone, we processed almost 230,000. We now receive performance data from 10,000 individual sources each quarter.
Today, with the Internet established as a major provider of music-based entertainment, the need to dig deep and process data that was virtually non-existent as recently as a decade ago is a vital part of our day-to-day operation, as BMI now processes billions of Internet performances each quarter.
The increase in data is, of course, a good thing, as it's indicative of the explosion in the use of music across multiple media both at home and abroad, and provides us with the most granular, detailed information available for calculating performance royalties.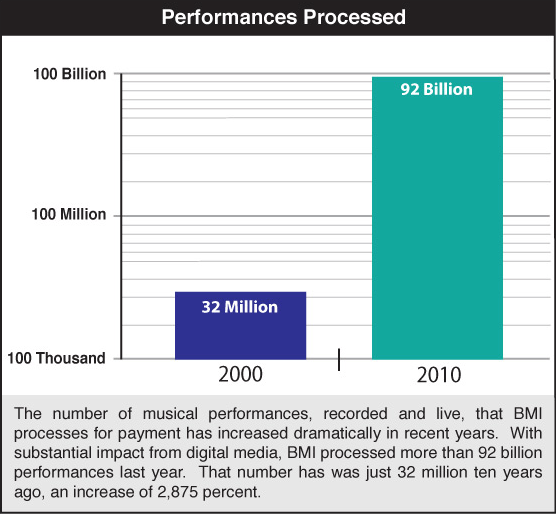 The growth of music use has become an international phenomenon, and we now need to think and act globally as well as domestically. Foreign royalty payments have soared in recent years, and now account for more than a quarter of our total revenues. Europe, our largest international revenue source, has seen a remarkable increase in the amount of music used across multiple media, spanning film, TV, Internet and broadcast performances. Because of the vital role the international marketplace now plays in our day-to-day activities, BMI has taken a leadership position in international organizations such as CISAC (the international organization representing copyright societies), and my BMI and PRO colleagues and I work with both digital and traditional global publisher representatives on projects that will help evolve future structures for international copyright administration.
But our role and our responsibilities have evolved beyond the collection of data and the timely distribution of royalties. Our songwriters, composers and publishers look to us now more than ever for guidance and support in matters of public policy, rights management, career direction and, of course, tapping new sources of revenue.
BMI has always tried to stay true to the basic tenets of our "open-door" policy by treating all our clients equally, offering the same high level of personal and professional service to both the fledgling writer and the established hitmaker.
The most viable way to maintain the highest level of responsiveness in this rapidly evolving environment is through the Internet. Just as personal financial transactions have been transformed through online banking, so have performing right-related functions been upgraded and streamlined through the use of digital business tools. Most tasks a songwriter, composer or publisher undertakes in working with BMI, from joining, to song registration, catalog review and receipt of royalty payments can now be accomplished online or via a mobile device, in a truly paperless environment. In fact, more than 90 percent of the hundreds of thousands of song registrations BMI processes each year are now received electronically.
This shift to an online business environment has one major drawback, and I find myself working diligently to avoid it: the depersonalization of much of the interaction between BMI and our writers and publishers. While communicating through email is quick, efficient and unquestionably necessary in today's global marketplace, the urgency, emotion and nuance that come across in face-to-face or even voice-to-voice communications are noticeably absent. In an effort to keep some level of personalized communication up and running, I find myself scheduling and calendaring phone calls.
Even in the digital age, we can often accomplish more during a quick meeting over a cup of coffee or during a weekend golf outing than we can through a day-long stream of email exchanges. While technology has allowed us to accomplish more in less time than we might have thought possible, it also leads us to expect answers more quickly than ever before, sometimes unrealistically so. Managing those expectations through personal contact is a vital part of our daily workflow and will remain so as we continue to seek new and better ways to serve the creative community.
Alison Smith, BMI Senior Vice President, Performing Rights, was recently named one of the industry's Top 30 female Power Players by Billboard magazine for the second consecutive year. She was also honored as one of the leading women in the music industry by OK! Magazine.