Managing Electronic Media: Making, Marketing, and Moving Digital Content
By: Joan Van Tassel and Lisa Poe-Howfield, Focal Press
It's not every textbook that opens with a quote from Jello Biafra, onetime leader of the Dead Kennedys and continuing leftist provocateur, but then Managing Electronic Media is not just any textbook. Designed as a ready-to-use primer on where the digital world has been and, more importantly, where it's headed, this is an understandably thick yet relatively easy to digest view of digital applications throughout the ever-expanding media landscape. As such, it's a worthwhile read not only for students and others considering a career in media, but also for those already diligently involved in creating, packaging, and selling such content.
Acknowledging that the landscape is literally changing by the hour, authors Van Tassel (an associate producer at La Jolla's National University and author of five other similar tomes) and Poe-Howfield (general manager of the NBC affiliate in Las Vegas and a former music industry executive) still provide valuable insights into the fundamentals: Leadership and management principles, financial and budgeting techniques, profiles of the "new paradigm of media consumers") while keeping a practical eye on how to navigate the common – and sometimes uncommon – pitfalls that exist in each sub-strata of the business.
Having armed readers with those fundamentals (copiously illustrated with charts, graphs, and real world examples), the book then describes how to apply them to so-called "new" media business models. Frequently used, but sometimes misapplied or misunderstood, concepts like data mining, metrics, Sarbanes-Oxley, and CRM are thus fully explicated, and while taking time out to define "software" or "B2C" may strike some as overly pedantic, it's all part of Van Tassel and Poe-Howfield's carefully inclusive approach.
Of particular value here are the recurring "Day in the Life" features, sidebars focusing on how an impressively wide variety of media executives spend a typical workday, touching on both their recurring considerations and their views on the media landscape. Subjects include a TV affiliate president and general manager, a film company co-founder, sales managers, media consultants, and BMI's own Senior Vice President, Corporate Strategy, Communications & New Media, Richard Conlon (see sidebar).
Also worth mentioning are each chapter's conclusion, which entails a "case study" and "assignment" designed to draw upon the lessons imparted within that chapter. Closely examining and analyzing the style of leadership portrayed in something like The Devil Wears Prada simultaneously helps readers to see how those lessons can be applied, while also giving them insight into how they're portrayed in popular entertainment – and what that says about public perceptions.
MEM concludes with a pair of chapters examining legal, regulatory, and ethical issues surrounding the subject, and to some will be worth the price of purchase.
---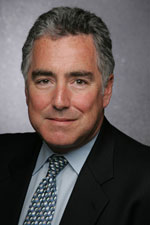 Managing Electronic Media: A Day in the Life of BMI's Richard Conlon
As BMI's Senior Vice President, Corporate Strategy, Communications & New Media, Richard Conlon is responsible for planning, developing, and implementing licensing sales and marketing strategies to help grow BMI's digital licensing business and increase its licensing penetration with existing media customers. Having started BMI's new media department in 1996, Conlon continues to supervise the company's new media licensing and marketing efforts.
His "Day in the Life" feature in MEM is one of the book's more notable ones; charged with describing a typical day at work, he replies, "In the volatile world of copyright and digital media, there is no typical day." Conlon answers e-mails on his train ride into BMI's New York offices, arriving at 7:30 to review relevant news clips online, briefings for the day's meetings, and a once-weekly review of year-to-date revenue and expense reports for the new media team.
By 10:00, he says, he's usually out of the office to meet with licensees, attorneys, journalists, and new media analysts, negotiating and/or discussing licenses for the use of BMI-represented music on online services, mobile platforms, social networks, and other such platforms. Lunchtime usually finds more of the same, with afternoons filled with additional client meetings and strategy sessions.
For all the new media focus, however, Conlon still relies on a spiral-bound notebook to "jot down the key items that I want to accomplish that day, as well as items that have a deliverable date to outside clients or internal departments at BMI."
Even in new media, it seems, old habits have their value.