Lee Thomas Miller Celebrates 'You're Gonna Miss This' with BMI
Friends, colleagues and family of BMI songwriter Lee Thomas Miller gathered in the BMI lobby on Music Row Wednesday, June 18 to toast the respected Nashville hit-maker and the success of his latest chart-topper, "You're Gonna Miss This." Recorded by Trace Adkins and co-written by Ashley Gorley, the tune's proverbial theme emphasizing the warm inevitability of nostalgia resonated with a broad spectrum of listeners.
In addition to the traditional no. 1 accolades and awards, Miller received a surprise presentation prepared by his wife, Jana: A video montage featuring various photos of the Millers' four children played, as "You're Gonna Miss This" served as the fitting soundtrack.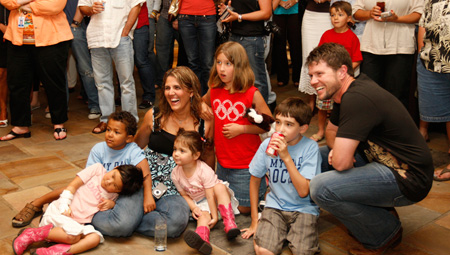 The Miller family enjoys the unique video montage of photos.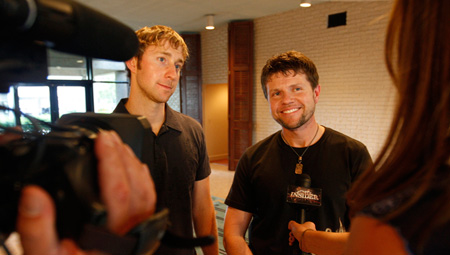 Co-writers Ashley Gorley (left) and Lee Thomas Miller (right) field questions from CMT.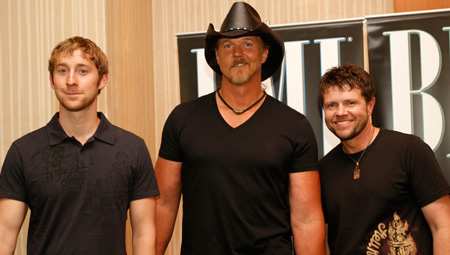 Pictured are (l to r): Ashley Gorley, Trace Adkins and Lee Thomas Miller.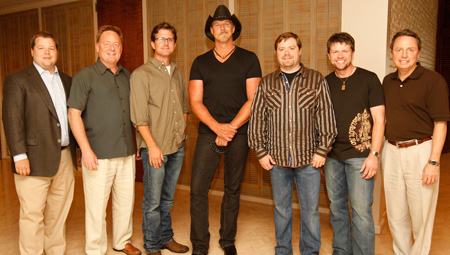 Pictured are (l to r): BMI's Bradley Collins, Sea Gayle Music's Chris DuBois, EMI's Gary Overton, producer Frank Rogers, Lee Thomas Miller, Trace Adkins and BMI's Jody Williams.
Photos by John Russell