Latin Rap Conference Set for L.A.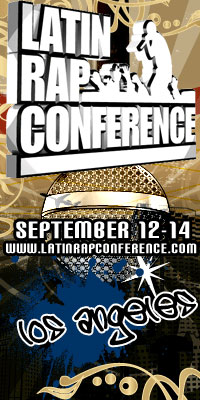 The Latin Rap Conference, the first industry conference focusing primarily on Latin hip-hop, urban, and reggaeton, will be held for the first time in Los Angeles, September 12-14, 2007 at the famous Hyatt on Sunset and selected Sunset Strip nightspots.
LRC has built a reputation for bringing together hundreds of executives, publicists, marketers, corporations to artists, DJs, indie labels and Internet companies for the purpose of growing the Latin rap, urban and reggaeton movement. LRC attracts major sponsors and media, including BMI, Clear Channel, Univision, Telemundo, MTV, Sirius and XM, along with artists like N.O.R.E., Lil Rob, Chingo Bling, Notch and Voltio. This year, LRC has also teamed up with such cutting-edge companies as Myspace En Español and RikRaf Entertainment in order to explore new ways of marketing and promoting the industry.
Organized by Jesse Perez, p.k.a. Shysti of Be The Pulse, Rich Isaacson and Jerry Blair of Fuerte Group, and Rick Valenzuela and Rafael Flores of RikRaf Ent., the LRC has become the forum for The Latin Rap Coalition Board of Directors (a group comprising the genre's top music executives, professionals, artists, and radio personalities) to discuss and take action towards the goals of education and Latino community empowerment. Members of the board include Gustavo Lopez, President of Machete Records; the nationally syndicated Pocos Pero Locos founders Khool Aid and E-Dub; Univision Radio's Pete Manriquez; John Lopez of Upstairs Records; DJ Kazzanova of La Kalle 105.9; Mexican-American rapper Chingo Bling; and Toy Hernandez of Control Machete.
For more information on the Latin Rap Conference and to register, visit latinrapconference.com. A discounted registration fee of $159 is available for BMI affiliates; use password lrc2007 and user name bmi07.