June Acoustic Lounge Features a Plethora of Performers
BMI's June edition of the Acoustic Lounge series provided Latin rhythms, edgy rock tunes, and folk-flavored storytelling stirred with a sultry finish. The performances took place Monday, June 2 and featured singer/songwriters Julianna Raye, Andreas Kapsalis, Cesar Castro and Ramon Yslas of ZocaloZüe. The Acoustic Lounge is held on the first Monday of each month at Genghis Cohen (740 N. Fairfax Avenue in Hollywood), and is free and open to the public.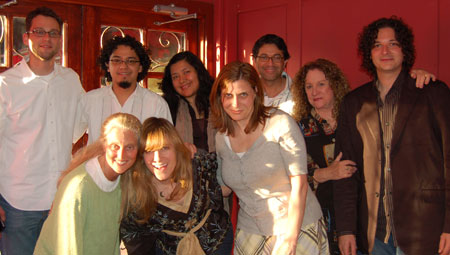 Back row (l-r) BMI's Casey Robison, ZocaloZüe's Cesar Castro, BMI's Marissa Lopez, ZocaloZüe's Ramon Yslas, BMI's Linda Livingston, Acoustic performer Andreas Kapsalis. Front row (l-r) BMI's Barbara Cane, Acoustic performer Julianna Raye and BMI's Tracie Verlinde
The Acoustic Lounge is one of many opportunities BMI offers to artists to showcase their talent in front of their peers and a supportive audience. The atmosphere is relaxed and fun, offering a great opportunity to network with other aspiring and working singer/songwriters. For established writers, it provides a chance to monitor new musical trends and be involved in the grass-roots/DIY musical movement.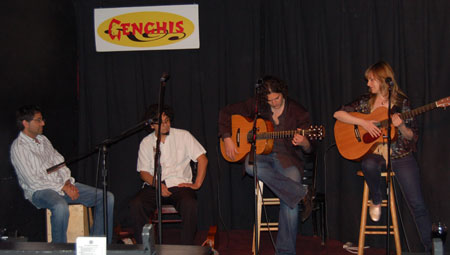 (l-r) ZocaloZüe, Andreas Ramon and Julianna sharing the stage