Jazz Appreciation Month Kicks Off In Washington
April has once again been designated as Jazz Appreciation Month, and BMI is proud to again be an anchor sponsor, as it has been since the JAM's beginnings seven years ago. The month-long celebration pays tribute to jazz as a true American art form and features a variety of activities, including performances, film and displays in venues around Washington, D.C.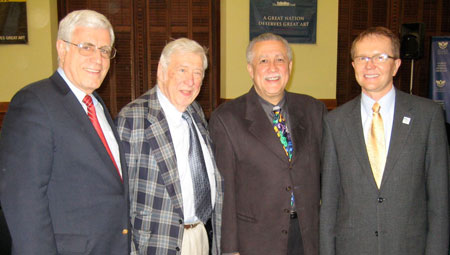 Pictured (l-r) are BMI's Robbin Ahrold, Gunther Schuller, Paquito D'Rivera and Smithsonian Curator of American Music John Hasse. Hasse developed the Jazz Appreciation Month program, which is led by the Smithsonian, seven years ago. Both Hasse and the NEA's Gioia are BMI composers.
The National Endowment for the Arts saluted the importance of jazz as an American cultural art form, and supported the kickoff of Jazz Appreciation Month jazz program at their headquarters in Washington DC on March 28. Keynoting at the event, organized by NEA Chairman Dana Gioia, was BMI composer Gunther Schuller, with performances by BMI Latin composer and saxophone virtuoso Paquito d'Rivera and his trio. BMI composers represent the majority of the 100 NEA Jazz Masters Fellowship recipients, the highest honors that our nation bestows upon jazz musicians.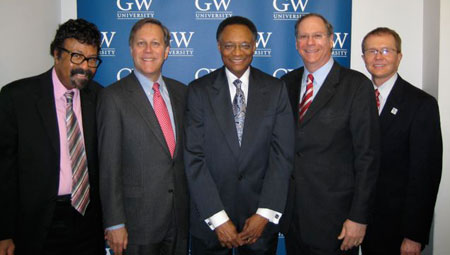 At CNN's "Crossfire" studio at George Washington University, for the media event kicking off Jazz Appreciation Month, are from left: BMI composer and Director of the Smithsonian Jazz Orchestra Dr. David Baker, National Endowment for the Arts Chairman Dana Gioia, BMI composer and JAM Ambassador for 2008 Ramsey Lewis, BMI's Charlie Feldman, Smithsonian Curator of American Music John Hasse
During a special ceremony on March 31, Ramsey Lewis engaged fellow musician Larry Coryell in a conversation about jazz as America's national treasure and global export. Lewis also donated artifacts from his career to the museum's music collections.
JAM is an annual event that pays tribute to jazz both as a historic and living American art form. Throughout the month, the Smithsonian will present numerous events, including performances, talks and family activities in venues across Washington, D.C.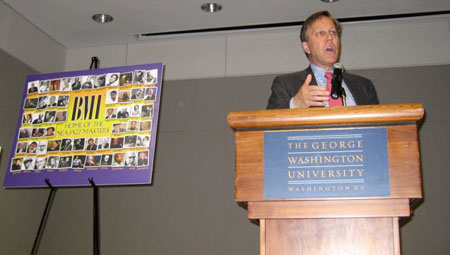 National Endowment for the Arts Chairman Dana Gioia addresses the VIP luncheon and speaks about NEA's Jazz Masters program.
"Jazz is a truly American style of music that has played an important role in our heritage," said Brent D. Glass, director of the National Museum of American History. "Through the Smithsonian's Jazz Appreciation Month activities, we will highlight jazz and its history and how the genre has an important function in global diplomacy."
Lewis's donation of archival materials documenting his career consists of photographs, publicity materials, news clippings and awards. The awards include his 2007 designation as a Jazz Master by the National Endowment for the Arts and his designation as a living "Legendary Landmark of Chicago" in the same year. These items will join the museum's collection of memorabilia from other jazz musicians, including Ella Fitzgerald, Lionel Hampton, Artie Shaw and Duke Ellington.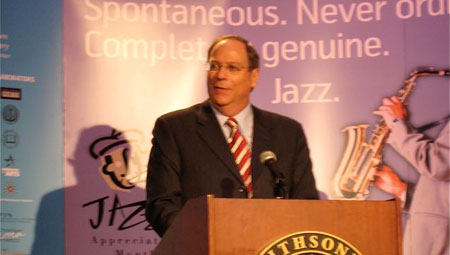 Charlie Feldman addresses the media and VIP audience at the JAM kickoff.
The National Museum of American History launched JAM in 2001 and it has since grown to include celebrations in all 50 states and 33 other countries. This year the Smithsonian will present a record 34 events, including performances by the Smithsonian Jazz Masterworks Orchestra, appearances by NEA Jazz Masters Sonny Rollins, Dave Brubek, David N. Baker and Candido Camero. A complete schedule of JAM events is available at http://smithsonianjazz.org.
The 2008 JAM celebration is underwritten by generous financial support from the Herb Alpert Foundation; BMI; the Ella Fitzgerald Foundation; and NAMM, the International Music Products Association. WAMU Radio, 88.5 FM, is the media partner in the nation's capital, providing public service announcements.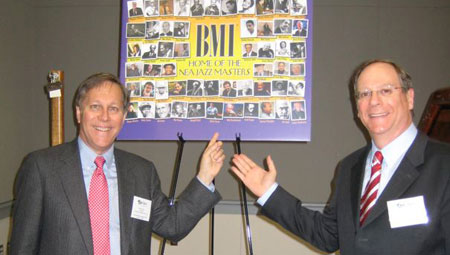 National Endowment for the Arts Chairman Dana Gioia and BMI's Charlie Feldman share the recognition of BMI's many NEA Jazz Masters at the JAM kickoff.
"BMI has a proud tradition of support for the jazz idiom and the composers and artists in the jazz community, reaching back to our beginnings in the 1940s," said BMI Vice President Charlie Feldman at the March 31 media kickoff event. "BMI made it possible for jazz composers, for the first time, to receive royalties for airplay of their work — composers and artists from Coltrane to Monk, from John Lewis to Myles Davis. As a matter of fact, BMI represents the majority of the National Endowment for the Arts 'Jazz Masters,' an honor that is the equivalent of the Pulitzer Prize in the world of jazz.
"Today, we salute one of those jazz masters, a composer, artist and broadcaster who has been part of the BMI family for more than 45 years, the legendary Ramsey Lewis.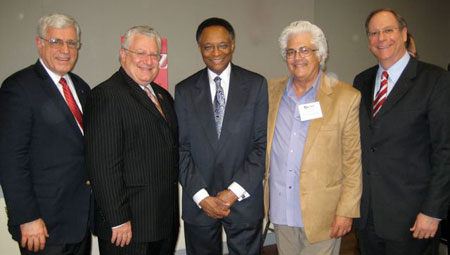 BMI's Robbin Ahrold and Fred Cannon, BMI composer and JAM Ambassador for 2008 Ramsey Lewis, BMI jazz composer Larry Coryell and BMI's Charlie Feldman share a moment at the VIP kickoff luncheon for Jazz Appreciation Month at George Washington University in the nation's Capitol.
"With three Grammys and five gold records — and counting — Ramsey is one of the most prolific composer/artists in the BMI family, with more than 200 compositions in his catalog. He has achieved BMI's highest honors, beginning in 1966 with his BMI Award for 'Wade in the Water,' one of the most-performed songs on U.S. radio that year, to just last year when we joined the industry in Nashville as Ramsey won the 2007 Stellar Award for Best Gospel Instrumental Album.
"Ramsey is an absolute natural to be the standard bearer this year for Jazz Appreciation Month — he is, after all, the voice of jazz to millions of Americans through his nationally syndicated radio shows and his stunning new public television series, 'Legends of Jazz.' His passion and commitment to the next generation of jazz fans is also legendary, through his many youth education initiatives, and through his important work at the Ramsey Lewis Foundation."
In commemorating JAM 2008, the museum collaborated with a diverse group of 31 organizations, institutions, associations and federal agencies that have provided financial and in-kind support and organized programs and outreach of their own. This year the museum is welcoming the American Federation of Teachers, The U.S. Conference of Mayors and XM Radio to the group.