James Otto Off to a Great Start
The CMA Festival provided a fitting celebratory atmosphere for all things James Otto Thursday, June 5 in downtown Nashville. Held at Limelight and co-sponsored by BMI, a party touting the breakout success of the soulful rising star also saluted his first no. 1 single, "Just Got Started Lovin' You." Co-written by Otto, D. Vincent Williams and Jim Femino and co-produced by Otto and John Rich, the tune flew up the charts, officially announcing the arrival of a potent new singer/songwriter.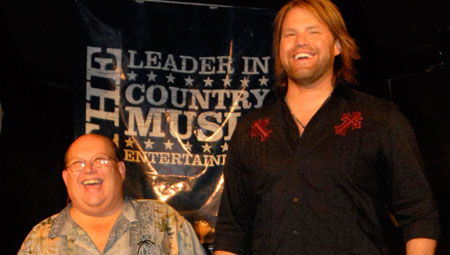 Co-writers Jim Femino (left) and James Otto (right) enjoy part of the presentation.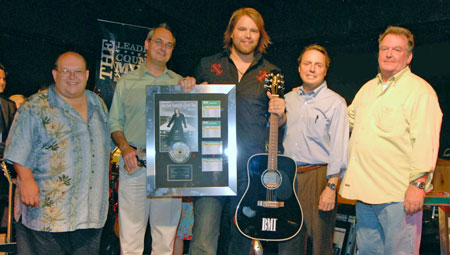 Pictured are (l to r): co-writer Jim Femino, Warner-Chappell's Dale Bobo, BMI singer/songwriter James Otto, BMI's Jody Williams and Keith's Wild Bunch Music's Alan Kates.
Photos by Kay Williams