Jack Sander Named Chairman of BMI Board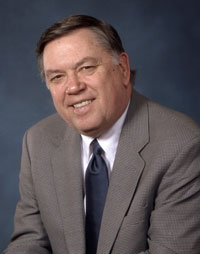 Jack Sander, former Vice Chairman of Belo Corporation in Dallas, Texas, has been elected Chairman of the BMI Board of Directors. Sander succeeds Board Chairman Cecil L. Walker, who will become Presiding Director and continue his service on the BMI board. The announcement came following the annual shareholders meeting in New York.
Sander joined the board in 2002 and was Vice Chairman from 2006-2007. He will hold the position of Chairman for a three-year term. Sander is a 40-year veteran of the media industry and has worked for Belo Corp. since 1997. At Belo, he held the positions of Vice Chairman, President/Media Operations, Executive Vice President/Television Group, Executive Vice President/Media Operations and has served as Senior Advisor since his retirement at the end of 2006. A graduate of the University of Cincinnati, Sander is currently Joint Chairman of the National Association of Broadcasters (NAB). He previously served as Chairman of the Television Association of Broadcasters (TVB), the NBC Affiliate board and Vice Chairman of the Fox affiliate board. In civic affairs, Sander has served on a number of non-profit boards and was the 1995 Chairman of the Board of Directors for the United Way of Metropolitan Atlanta.
Re-elected to the BMI board were: Susan Davenport Austin, Vice President of Strategic Planning and Treasurer, Sheridan Broadcasting Corporation and President, Sheridan Gospel Network, New York, NY; Craig A. Dubow, Chairman, President & Chief Executive Officer, Gannett Co., Inc., McLean, VA; Kenneth J. Elkins, President & CEO, Pulitzer Broadcasting and Senior Vice President, Broadcasting, Pulitzer Publishing Co. (retired), St. Louis, MO; Paul Karpowicz, President, Meredith Broadcasting Group, Rocky Hill, CT; and Frank Melton, Mayor, City of Jackson, Jackson, MS. Elkins's term expires in 2009; all others expire in 2011.
Continuing in their terms on the board of directors are: Presiding Director Cecil L. Walker, former Chairman & CEO, Gannett Broadcasting, Atlanta, GA; Del R. Bryant, President & CEO, BMI, New York, NY; Amador Bustos, President & CEO, Bustos Media, LLC, Sacramento, CA; N. John Douglas, President/CEO, AIM Broadcasting, LLC, Palo Alto, CA; Catherine L. Hughes, Founder & Chairperson, Radio One, Inc., Lanham, MD; Philip A. Jones, Mission Hills, KS; Jerome L. Kersting, Executive Vice President & Chief Financial Officer, Clear Channel Radio, San Antonio, TX; Virginia Hubbard Morris, Vice President, Hubbard Broadcasting, Inc., St. Paul, MN; Mark Pedowitz, President, ABC Studios, Burbank, CA; G. Neil Smith, President, GNS Media, LLC, Liberty, SC; and K. James Yager, CEO, Barrington Broadcasting Group, LLC, Hoffman Estates, IL.
George V. Willoughby of Seattle, WA, a board member since 1985, retired from the board.