Jack Ingram Serenades Clear Channel Party
Texas native and BMI songwriter Jack Ingram performed at the annual Clear Channel Broadcast Accounting Holiday Party November 20, in San Antonio, TX.
Ingram, this year's Academy of Country Music Top New Male Vocalist, entertained the crowd with hits "Measure of a Man," "Lips of an Angel," "Great Divide," and "Biloxi"; he also performed his current chart-climbing single, "That's A Man." Ingram has a new album on Big Machine Records scheduled to be released in the spring.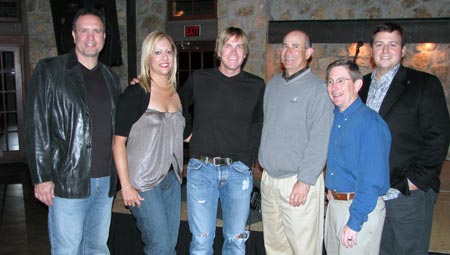 Shown are (l-r): Clear Channel San Antonio Operations Manager George King; Clear Channel Controller Susan Hicks; Ingram; Clear Channel VP of Finance Rick Mangum; Clear Channel SVP/Chief Accounting Officer Herb Hill; and BMI's Mason Hunter.