Great Songs Do Win: Scotty McCreery Cuts 'Out of Summertime' and Brings It Full Circle
Every song has a story. For some, the road from writer's dream to the top of the charts is a fast, straight shot. For others, the road twists and turns, as dead ends and false starts threaten to end the journey.
"Out of Summertime" was written by Nashville hit-makers Tim Nichols and Jonathan Singleton. Nichols is a Grammy-winning veteran whose résumé includes Tim McGraw's "Live Like You Were Dying," Joe Nichols' "She Only Smokes When She Drinks," Lee Ann Womack's "I'll Think of a Reason Later," Faith Hill's crossover hit "A Baby Changes Everything," and Trace Adkins' "This Ain't No Thinkin' Thing." Singleton is a strong young voice who, when he's not performing with his ace band The Groove, is penning smashes for other artists, including Billy Currington ("Don't"), David Nail ("Red Light"), and Gary Allan ("Watching Airplanes"). The two came together to pen "Out of Summertime," and while both publishers—This Music and BMG Rights, respectively—believed in the tune, Nashville's industry wasn't biting.
Cue the BMI Catalog Cast. Comprising 10 outstanding juniors and seniors in Belmont University's respected music business program, the BMI Catalog Cast works with publishers to take uncut jewels deserving of another listen to Music Row a&r staff. In addition to honing song-picking skills and networking, the students experience the real-world pitch—a bridge between songwriter, publisher, record label, and artist.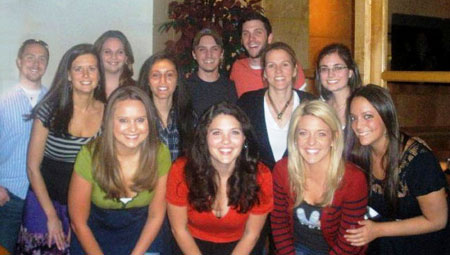 The latest class of the BMI Catalog Cast huddles for a group shot.
BMI's Beth Laird and Leslie Roberts oversee the students, serving as coaches and mentors every Wednesday during the spring semester, when each new Cast puts together a new compilation album of potential hits.
"'Out of Summertime' was on the most recent BMI Catalog Cast compilation CD," explains Laird, "and it stood out to me immediately. I remember thinking, 'Wow, way to go, guys! This song really does sound like a hit!'"
So when Iain Pirie at 19 Entertainment recently reached out to Laird to ask if she had any ideas for songs that would work for Idol favorite Scotty McCreery, a diamond in the rough was fresh on her mind.
"I immediately thought of 'Out of Summertime,'" she says. "So I sent it to Iain, and he thought it was perfect for Scotty. They went into the studio with producer Mark Bright, cut it, and Scott delivered a killer performance of the song."
When asked to reflect upon BMI's role in helping the song along, Laird smiles. "Two great writers wrote a great song," she says. "That's the biggest piece of this puzzle. We're here to nurture these writers—to support them in any way we can." She pauses. "Watching this song go from the BMI Catalog Cast to the 'American Idol' champ has been an amazing feeling, though. It's awesome to see the good writers—and the good songs—win."