Getting to Know 'The Boys': The Lives and Music of The Sherman Brothers
Their songs are ingrained in our collective musical memory: "It's a Small World," "Chim Chim Cher-ee," "Supercalifragilisticexpialidocious," and more. Brothers Robert Sherman and Richard M. Sherman, better known as The Sherman Brothers, composed the scores for classic Hollywood musicals including Mary Poppins and Chitty Chitty Bang Bang, and this summer, a film entitled The Boys will tell their unique story.
Songwriting runs in The Sherman Brothers' family. Their grandfather Samuel Sherman was court composer for nineteenth century Polish Emperor Franz Josef, and their father was Tin Pan Alley tunesmith Al Sherman. When Al sensed growing competition between his sons, he encouraged them to write songs together. The two sat down and came up with a hit, "Tall Paul," recorded by Disney Mouseketeer Annette Funicello. Walt Disney was impressed, and the brothers spent two decades as Disney house writers, where their music added magic to films including The Parent Trap, The Sword in the Stone, and Mary Poppins, for which they also received two Oscars.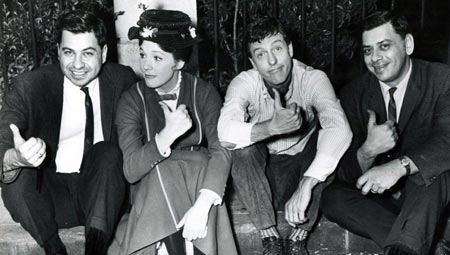 Pictured are (l-r): Richard Sherman, Julie Andrews, Dick Van Dyke, and Robert Sherman.
Through six decades and more than 1,000 songs, the prolific brothers wrote for Broadway (Over Here, John Travolta's Broadway debut), as well as live-action and animated Hollywood musicals (Aristocats, The Jungle Book, Bedknobs and Broomsticks and Tom Sawyer). "It's a Small World," written for the 1966 New York World's Fair, is one of the most performed songs ever.
Robert's son Jeffrey, a film and television writer, composer and producer, and Richard's son Gregory, an Emmy Award-winning television writer, composer, and producer, co-produced and co-directed the documentary The Boys. The cousins explore their fathers' turbulent relationship, revealing that the composing legends' harmony dissolved when the two were not writing together. More evidence in the fraternal tension is revealed through Jeffrey and Gregory themselves, who grew up a mere seven blocks from each other but did not meet until they were adults. In the film, Jeffrey hypothesizes that the acrimony between his father and uncle may very well be the secret to the potency of their songs. BMI composer Alan Menken, alumnus of the BMI Musical Theatre Workshop and heir to the Shermans' throne at Disney, is also one of the many notables interviewed.
As poignant as it is probing, The Boys pays homage even as it seeks to understand the dynamic behind two of music history's most prolific masters.