Film/TV Blog: The Úbeda Film Music Festival, Part Four
Frederik Wiedmann is an acclaimed BMI film, television and game composer. Wiedmann is blogging for BMI from the Úbeda Film Music Festival in Spain, an annual favorite event of composers and fans of film music.
After 24 hours of traveling, we arrived in the beautiful city of Úbeda. During my first walk through the city I already noticed people in Green Lantern T-Shirts, and immediately got really excited about meeting the fans at the Úbeda PlayFest.
It's extra special for me to have been invited back to Úbeda, this time, as one of the featured composers, because the last time I was here, it was six years ago with my wife Hyesu Yang to help the great Basil Poledouris resurrect his music from Conan - The Barbarian. Filled with such great memories, I was very excited to attend this year's event.
Saturday, July 28th was the big day. We had the final rehearsal/sound check in the morning, followed by a panel with one of the executive producers from Green Lantern: The Animated Series, Giancarlo Volpe. I was so touched by how great and truly enthusiastic the audience was about our show.
That evening, we finally had the open air concert at the historic Hospital de Santiago, where a 65-piece orchestra and a 40-piece choir performed a great selection of animation and game music, which of course included my 15-minute suite of Green Lantern.
It was a perfect evening: Great orchestra led by a great conductor filled the still warm evening air with beautiful music from a handful of amazingly talented composers, I was just as excited as any film music fan in the audience. What a wonderful night!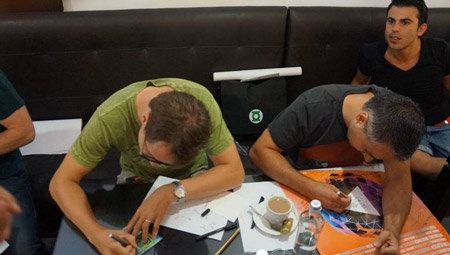 Fans show up with memorabilia to be autographed by the composers.
On Sunday, we had a signing event, which was truly a humble experience. Fans showed up with all kinds of stuff to get the composers' autographs on. I had a few people with their personally made collages of all my works, a picture of me from six years ago in Úbeda, etc. I was incredibly grateful not only for the recognition of my work, but for such passion for film music.
What made this whole experience even more special for me personally was the fact that I was there with my wife Hyesu with our little baby Kyan. I could not be happier to have shared this incredible moment with my family.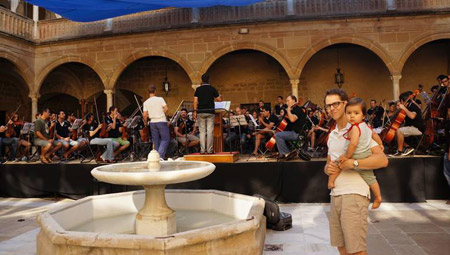 Freddie Wiedmann enjoys the Úbeda Film Music Festival with his baby Kyan.
I'm sure this whole trip will remain a highlight of my career. I'm full of gratitude and excitement about my job, I feel like I can write some awesome music when I return to LA.