Eighth Annual Jazz Appreciation Month Kicks Off In D.C.
April has once again been designated as Jazz Appreciation Month, and BMI is continuing its role as an anchor sponsor, as it has been since JAM's inception eight years ago. The month-long celebration pays tribute to jazz as a true American art form and features a variety of activities, including performances, film and displays in venues in Washington, D.C. and around the globe.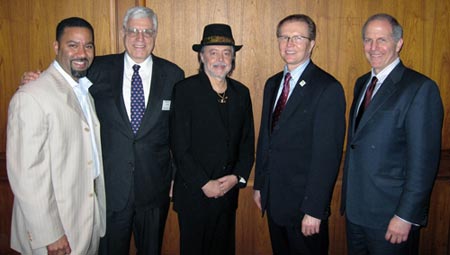 Shown at the event are (l-r): BMI composer/artist Marcus Johnson, BMI's Robbin Ahrold, Mangione, Smithsonian Director of Music John Hasse and NMAH Director Brent Glass.
The National Museum of American History launched JAM in 2001 and it has since grown to include celebrations in all 50 states and 33 other countries. A complete schedule of JAM events is available at smithsonianjazz.org.
The 2009 Jazz Appreciation Month highlights "Jazz Music, Masters and Messages" and kicked off with the April 2 JAM Launch in Carmichael Auditorium at the newly renovated National Museum of American History (NMAH) at 12th Street and Constitution Ave. NW, where BMI composer/artist Chuck Mangione was highlighted in an artifacts donation ceremony and onstage discussion that paid homage to his illustrious career, artistry, community service, and dedication to jazz education.
Soulful Washington, D.C. jazz pianist/BMI composer Marcus Johnson appeared at the launch at to play a musical tribute to Chuck Mangione and joined him in an onstage discussion.