Danny Elfman Gets Crystalized
Composer/songwriter Danny Elfman was presented with seven BMI Crystal awards for his BMI award-winning films and TV series from 2006 and 2007 by Doreen Ringer Ross BMI's Vice President, Film & Television Relations. Elfman received awards for his scores for the films Charlie and the Chocolate Factory, Meet The Robinsons, Charlotte's Web and Nacho Libre, along with three for his music for the hit television show Desperate Housewives.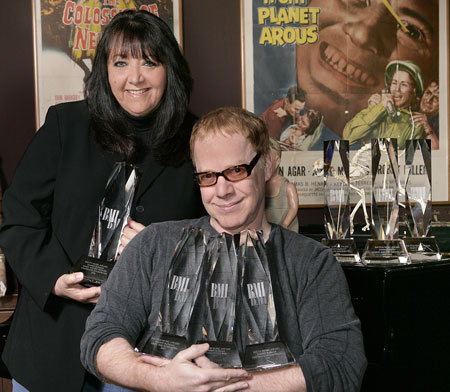 One of the top film and television composers today, Elfman's credits include such feature films as Batman, Edward Scissorhands, The Nightmare Before Christmas, Mission: Impossible, Men in Black, Sleepy Hollow, Spider-Man and Spider-Man 2, Big Fish, and Tim Burton's Corpse Bride.
Photo by Randall Michelson