Copyright Alliance Exponential Spotlights Protection Tools
BMI artists Isaac Hayes, David Porter and Chuck Brown were in Washington D.C. on October 11 to participate in the first annual Copyright Alliance Exponential, which provided members of Congress, Congressional staffers and members of the media with an advance look at new copyright protection tools, as well as continued discussion of the vital role copyright plays in the global economy.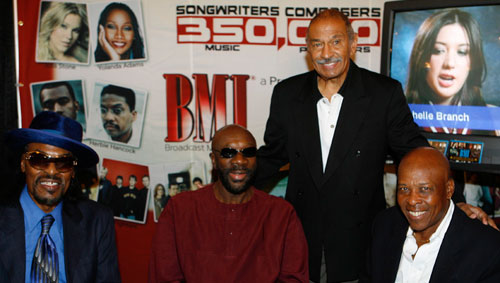 Chuck Brown, Isaac Hayes, Rep. John Conyers, Jr., and David Porter.
Throughout the event, the BMI booth was three-deep with conference attendees seeking autographs and photographs with Hayes, Porter and Brown, who graciously made time for everyone who wanted to say hello.
"The music industry is always undergoing change — that's a constant," noted Hayes. "However, one thing that has never changed, and never will change, is the importance of copyright. It's how creative people make a living and are able to keep being creative."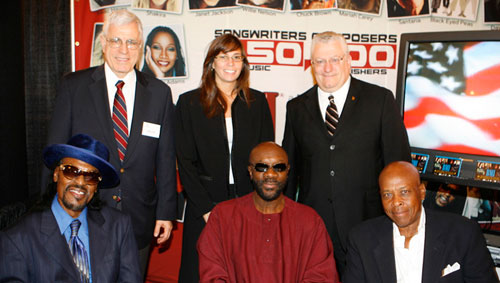 Chuck Brown, Isaac Hayes and David Porter with BMI's Robbin Ahrold, Christine Iglesias and Fred Cannon.
The event was attended by a variety of Capitol Hill luminaries, including Representative John Conyers (D-MI), Chairman of the House Judiciary Committee, who told attendees he is putting together a bill intended to step up the federal government's ability to enforce violations of intellectual property law.
Conyers said he wants to see federal agencies — including the FBI, U.S. Patent and Trademark Office, State Department and Department of Homeland Security — work with greater levels of cooperation in protecting IP rights. Elsewhere in the House, Rep. Steve Chabot (R-OH) has introduced a bill that would increase criminal penalties for IP violations and provide increased funding for federal investigators and prosecutors to focus on offenses.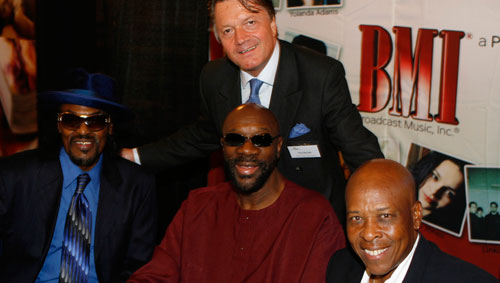 Fran Nevrkla, Chairman & CEO, PPL and VPL, with Chuck Brown, Isaac Hayes and David Porter
Also on hand at the event were Fran Nevrkla, Chairman & CEO, PPL and VPL; former Congresswoman Patricia Scott Schroeder, who is now President and Chief Executive Officer of the Association of American Publishers; and Chris Israel, International Intellectual Property Rights Enforcement Coordinator for the U.S. Department of Commerce.