Conversations: Béla Fleck & Earl Scruggs
Earl Scruggs died yesterday, March 28, in Nashville at age 88. In 2009, Mr. Scruggs talked with Béla Fleck about his legendary career.
Are legends simply born, or are they made? In an exclusive interview for BMI MusicWorld, renowned bluegrass-jazz synergist Béla Fleck sat down with revered five-string banjo godfather Earl Scruggs to discuss evasive and exhilarating composition processes, intertwined personal histories, and the virtuosic value of 10,000 hours.
Béla Fleck (BF): So, you've been writing banjo tunes for a long time. What's your writing process?
Earl Scruggs (ES): Well, I've always thought every musician has one or two, five or six songs in their system. I've always felt that you might run out of material, and then you can co-write with other writers and put your two cents worth in with his two cents, and you got four cents in there, you know?
BF: (laughs) I like that idea that everyone comes in with a few songs in them. We've been reading this book, it's called Outliers. There's a guy named Malcolm Gladwell…he has this theory that for people to really get good at something, they have to put in a lot more time than anybody realizes. He had this magic number of 10,000 hours that it'd take – like, before you had a piano virtuoso there's been 10,000 hours put in…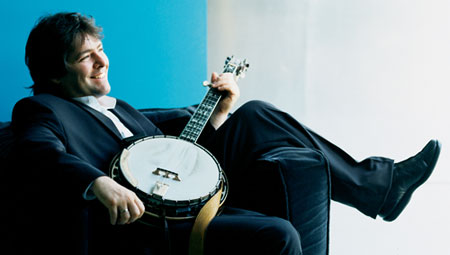 ES: There may be something to that.
BF: Really? But, it just got me thinking about how much you've played…I don't know how many shows you would do a day sometimes, and then go travel and play a concert that night…how much did you guys [Flatt & Scruggs] play when it was really busy?
ES: Well…let's see, for a long time we'd work Augusta, Georgia, Monday; Atlanta Tuesday; Florence, South Carolina, Wednesday; Huntington, West Virginia, Thursday; and Friday was Jackson, Mississippi; and WSM here – The Opry – on Saturday…
BF: So back before, when you were just working on your banjo playing on your own, how much would you play? What was the typical day of playing?
ES: Well, that varied…I was in school…we were on the farm…we'd have to milk cows, feed the mules and slop the hogs, as they call it, and if you had any time left, you'd probably get in a few minutes with the banjo…
I was sitting picking one day, and I'd pick with thumb and index finger…and all of a sudden, I was adding that one-two-three thing…and I thought, "Dang, that sounds good." My oldest brother…he didn't know I could pick with three fingers on that banjo…he said, "Is that all you can pick?" A little streak of electricity went up my spine. I didn't know if I could pick anything else or not.
BF: Do you remember when John Hartford introduced us by any chance? I'm not expecting you to, but you came over to his place, and he invited me over…I played rhythm guitar, and then at the very end of the session, John said, "Oh, Béla plays a little bit of banjo," and you said, "Oh, well get it out," and then I played something for you.
I remember, because I thought it was so sweet of him…he knew that we had never met, and that I was eager to meet you. I played a Charlie Parker song – a jazz song – for you, and you said, "And they said it couldn't be done." I was very proud of myself.
ES: I remember I got that line from Everett Lilly's daddy. Do you remember Everett Lilly?
BF: Yeah.
ES: Boy, he was West Virginia-country, out of this world. First time he ever heard me pick he said, "And they said it couldn't be done." Where'd you get a lot of your rehearsing and stretching out?
BF: Well, I got my banjo when I was fifteen, but after hearing you play, first on The Beverly Hillbillies, when I was a little kid.
When I was 15, I went to see my grandfather, who had moved to upstate New York, and when I got there, he had a banjo there for me. It was the weekend before I started high school…he said he bought it at a garage sale for a few dollars…I just was in love with it. We got on the train to go back, and there was a guy on the train that tuned it up for me and showed me a few things that first day. So…I had an in-tune banjo.
ES: In New York.
BF: Yeah, in New York. And I didn't know how to find out how to play it. First I got Pete Seeger's book, and then I got your book, and then I just started listening to everything…I would play in the morning before I went to school, and then I would play after school, and then on the weekends…I started taking the banjo to school with me so I could play in between classes, and if I didn't play for a little while, I would become very uncomfortable. I just had to have it all the time.
ES: I used to take the banjo to the thread mill, Lily Mill…a guy there helped me get a job, and we'd go out to the car. I had a '36 Chevrolet car. First car I ever had. We'd sit in the back seat and pick until they whistled for us.
BF: It's fun talking about all this stuff. I'm trying to remember if there's anything else I wanted to ask about. I wanted to throw that idea about the 10,000 hours out there to see what you thought about it, if it really takes that long to get good at something, or is it something somebody just has got…they're born with it, or is it that time you put in…
ES: I used to just, try to pick all I could, you know, just till Momma'd say go feed the hogs, or whatever – time to go to school, which always came too quick to suit me. I'd just as soon sit there and pick.
…
Béla Fleck has been a BMI songwriter since 1985. His ambitious new collection, Throw Down Your Heart: Tales From the Acoustic Planet Vol. 3 - Africa Sessions, explores and incorporates African roots music and musicians. No Depression has lauded the effort, proclaiming the album "stretches our understanding of musical possibilities, strengthens our sense of connection to other cultures, and delivers joyously evocative delights." The corresponding documentary, Throw Down Your Heart, catalogs Fleck's extensive travels and collaborations, and will debut in New York City April 24 through 30 at the IFC Theater. Fleck will also play an anticipated string of shows with his African counterparts; for a complete list of upcoming performances, please visit www.belafleck.com.
Earl Scruggs has been a BMI songwriter since the late 1940s. He released a Grammy-nominated CD, Earl Scruggs with Family & Friends' The Ultimate Collection / Live at the Ryman in September of last year. A member of the Country Music Hall of Fame and a recipient of five Grammys including the Academy's prestigious Lifetime Achievement Award, Mr. Scruggs perfected and popularized three-finger, five-string banjo picking, which is now considered the instrument's standard. After serving in Bill Monroe's genre-shaping band, he and Lester Flatt formed the influential Flatt & Scruggs, whose "Foggy Mountain Breakdown" introduced bluegrass and "Scruggs-style" picking to an audience of unprecedented diversity and size. Scruggs later formed The Earl Scruggs Revue with sons Gary and Randy. www.earlscruggs.com