Composer Scott Brasher Scores First Feature Film 'Billy: The Early Years'
Nashville-based BMI composer Scott Brasher has penned the original score for new biopic Billy: The Early Years, which traces the roots of evangelical pastor Billy Graham. The movie marks Brasher's first foray into feature film scoring, but is a due step forward for the proven writer. Formerly the keyboardist for award-winning contemporary Christian artist Michael Card, the versatile Brasher has co-written radio-friendly hits including Card's "The New Jerusalem" and composed jingles for radio and television, along with scores for award-winning short film Winter: En Hiver and documentaries The Dance and The Curious Mr. Catesby.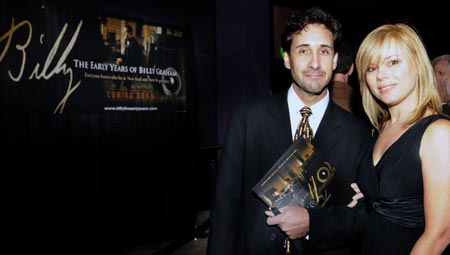 Pictured at the film's red carpet premiere in Nashville are Scott Brasher (left), with wife Joan.
The film, currently playing in cities across the United States, stars Armie Hammer and an impressive cast including Martin Landau and Lindsay Wagner, and features appearances by BMI songwriters including country star Josh Turner. To view the trailer or find theatres showing the film, please visit www.billytheearlyyears.com.